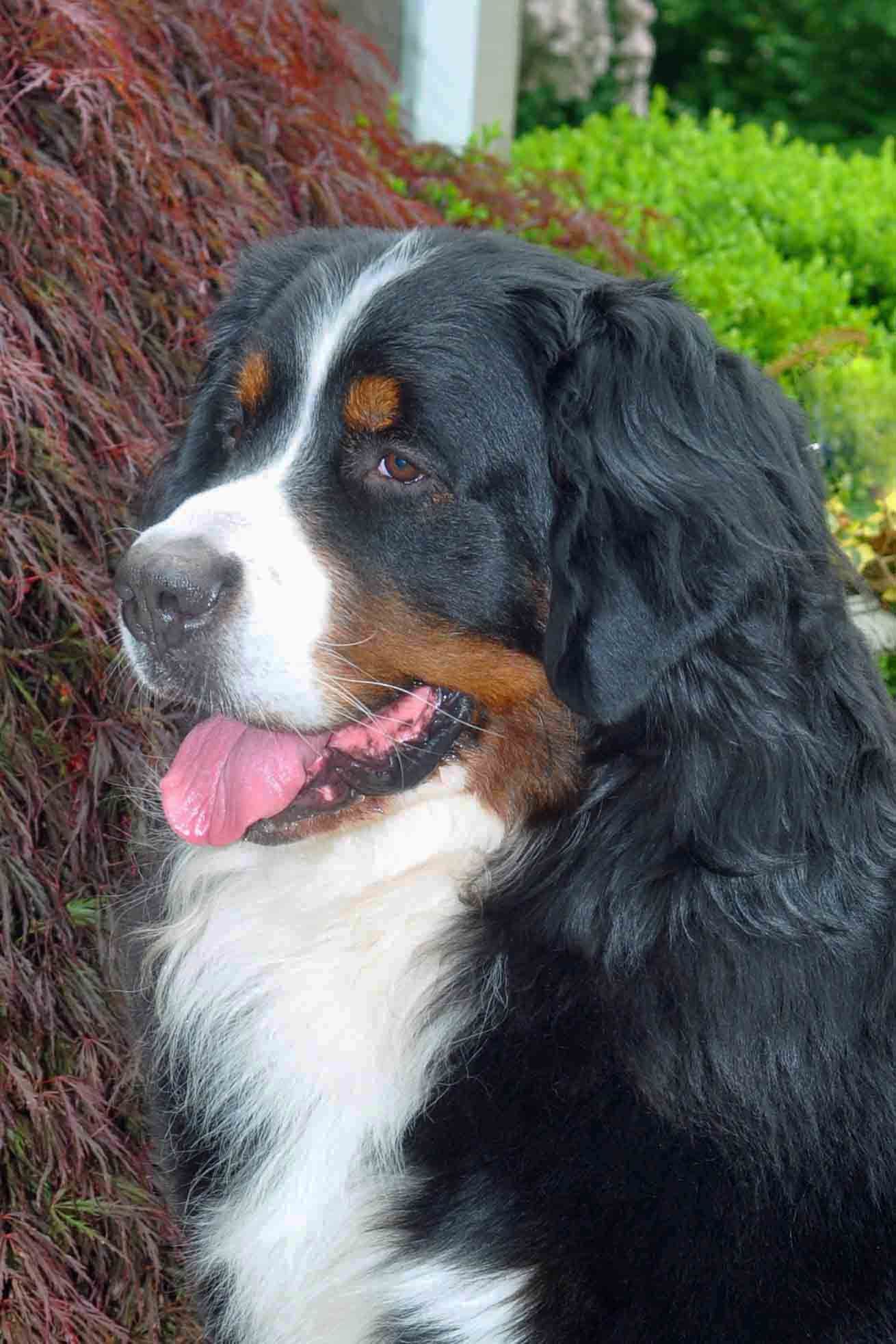 ---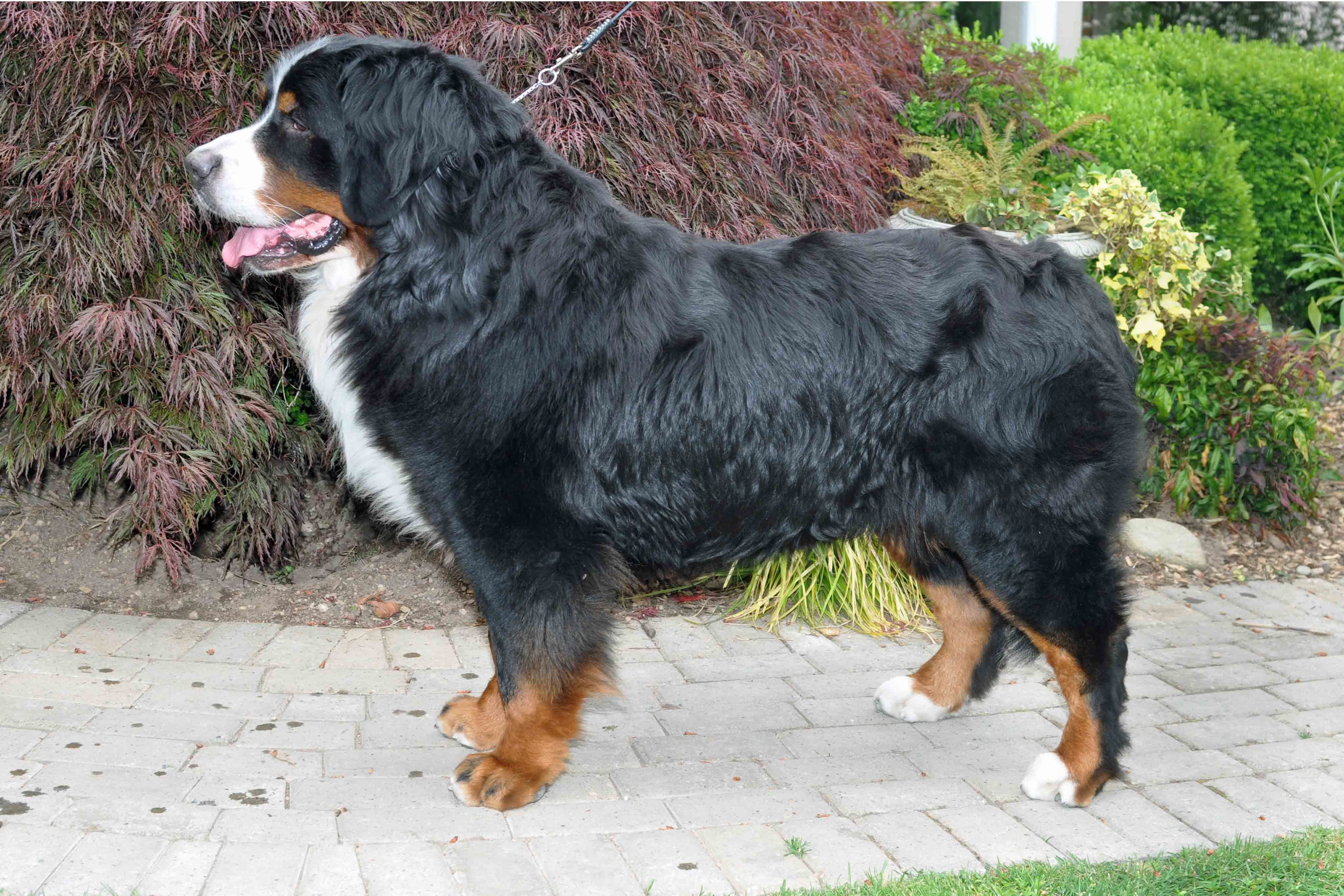 The Sire:
Bigbogart vd Helvetiern Am Erbach, "Bogie"
AKC#WS59969101, DOB: 5/3/12, SSV HD free (hips good), OFA gr. 1/DJD elbows (evaluated at nearly 6 yo), vWd normal, SOD1A DM normal, SOD1B DM normal, OFA heart normal, OFA eyes normal (E1; punc. cat.),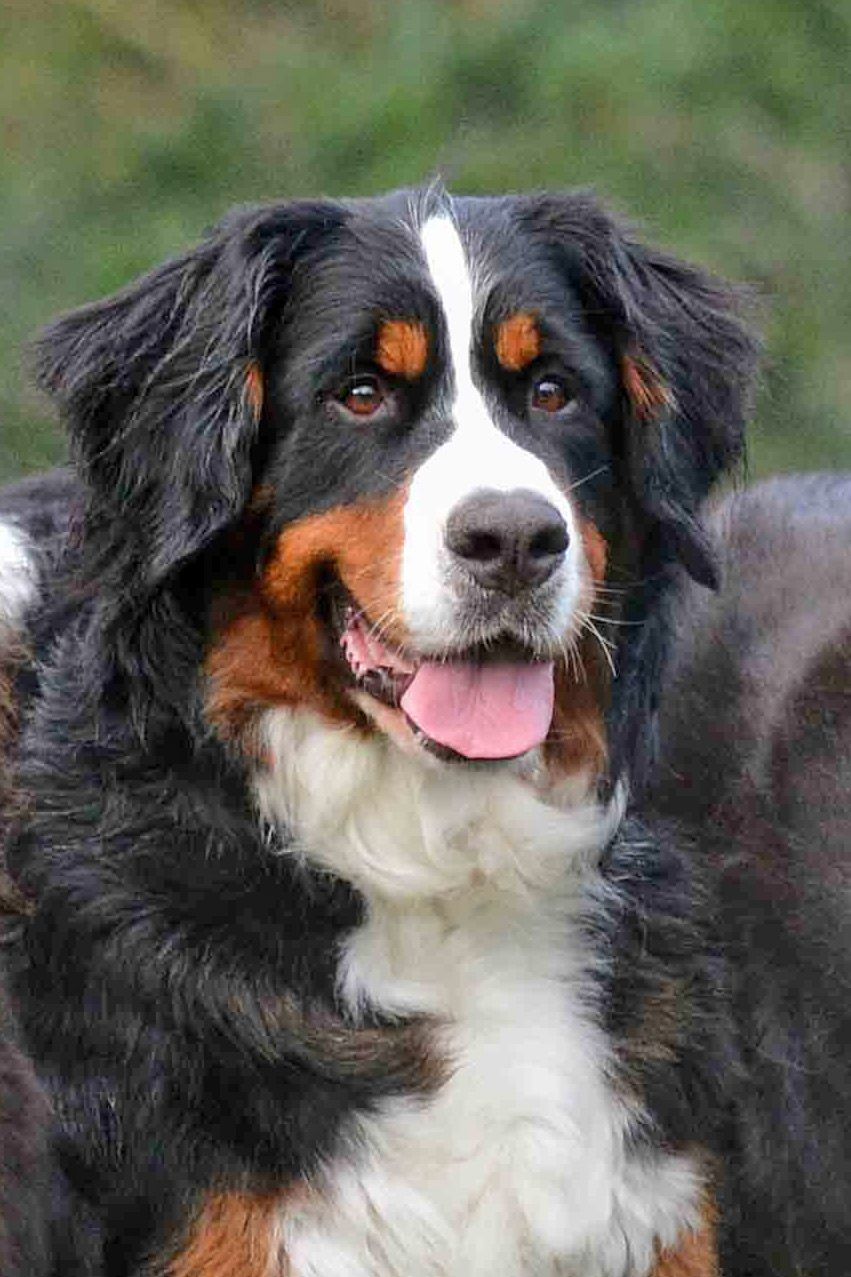 ---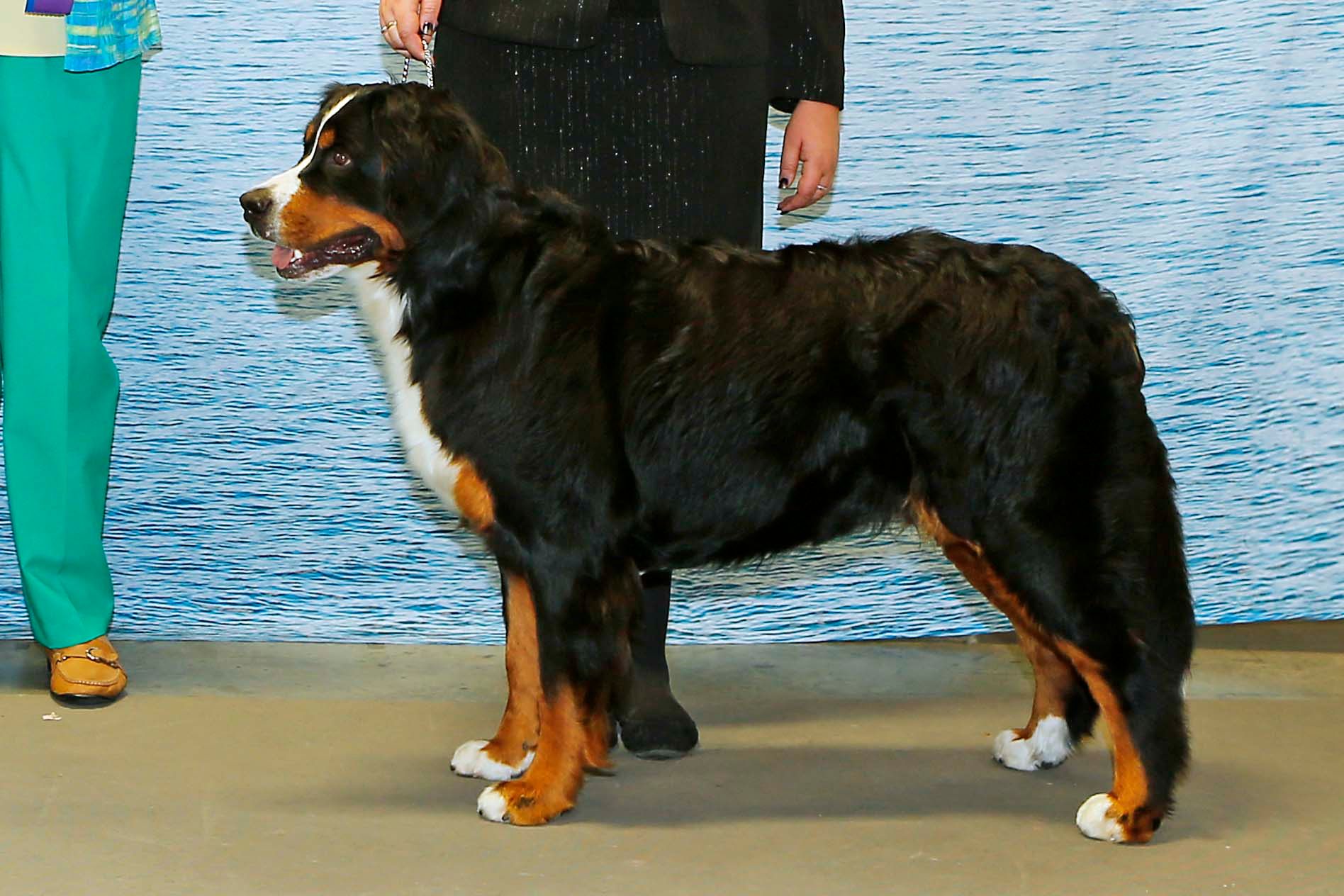 The Dam:
RavenRidge Molly Good Gosh by Golly, "Molly"
AKC#WS49472103, DOB: 1/8/15, OFA hips good, OFA unilateral grade 1/DJD, SOD1A DM normal, SOD1B DM normal, vWd normal, OFA heart normal, OFA eyes normal, pre-histio index C
| | | | | | | | |
| --- | --- | --- | --- | --- | --- | --- | --- |
| Name | male/female | Call Name | OFA hips | OFA elbows | Other tests | Owner | Notes |
| RavenRidge T.D. Ellie Bern-Ellie | F | Ellie | Excellent | normal | clear by parentage: vWd, SOD1A DM, SOD1B DM, pre-histio index B | Surrey, B.C. |   |
| RavenRidge Take Me Out to the Ballgame, Maggie! | F | Maggie | Excellent | normal | clear by parentage: vWd, SOD1A DM, SOD1B DM, pre-histio index C | Seattle, WA |   |
| RavenRidge Tales of Charlotte | F | Charlotte | Excellent |   | clear by parentage: vWd, SOD1A DM, SOD1B DM, pre-histio index C | Seattle, WA |   |
| RavenRidge Tequila Rose | F | Tequila | Good | normal | clear by parentage: vWd, SOD1A DM, SOD1B DM, OFA eyes normal (breeder option; PPM), OFA heart normal, pre-histio index C | Woodinville, WA | 8/21; pyometra, and spayed |
| RavenRidge The Loki Artichokie Bond | M | Loki | Good | normal | clear by parentage: vWd, SOD1A DM, SOD1B DM, pre-histio index C | Seattle, WA |   |
| RavenRidge Toblerone My Little Swiss Miss | F | Tobi | Excellent | normal | clear by parentage: vWd, SOD1A DM, SOD1B DM, pre-histio index C | Gig Harbor, WA |   |
| RavenRidge Toffifee My American Temptation | F | Toffie | German score: HD A/A (excellent) | ED 0/0 (normal) | clear by parentage: vWd, SOD1A DM, SOD1B DM, Shoulder OCD 0/0 (normal), pre-histio index C | Magstadt, Germany |   |
| RavenRidge Tokyo | F | Cici | Excellent | normal | clear by parentage: vWd, SOD1A DM, SOD1B DM, pre-histio index C | Snoqualmie, WA |   |
| RavenRidge Tre Sorelle Bella Luna | F | Luna | Excellent | normal | clear by parentage: vWd, SOD1A DM, SOD1B DM, pre-histio index C | Maple Valley, WA |   |
| RavenRidge Tres Belle Marguerite | F | Daisy | Excellent | normal | clear by parentage: vWd, SOD1A DM, SOD1B DM, OFA heart normal, OFA eyes normal (breeder option: A3: Distichiasis) pre-histio index C | Vashon Island, WA |   |
| RavenRidge Turanga Leela | F | Leela | Excellent | normal | clear by parentage: vWd, SOD1A DM, SOD1B DM, pre-histio index C, OFA heart normal | Snoqualmie, WA |   |
| RavenRidge Tyler Princely Touch vd Helvetiern | M | Tyler | Excellent | normal | clear by parentage: vWd, SOD1A DM, SOD1B DM. OFA heart normal, OFA eyes normal (breeder option D3A; PPM), pre-histio index C, AKC DNA | Bellingham, WA |   |
| RavenRidge Tredje Bjorn | M | Thor | Good | normal | clear by parentage: vWd, SOD1A DM, SOD1B DM, pre-histio index C | Seattle, WA |   |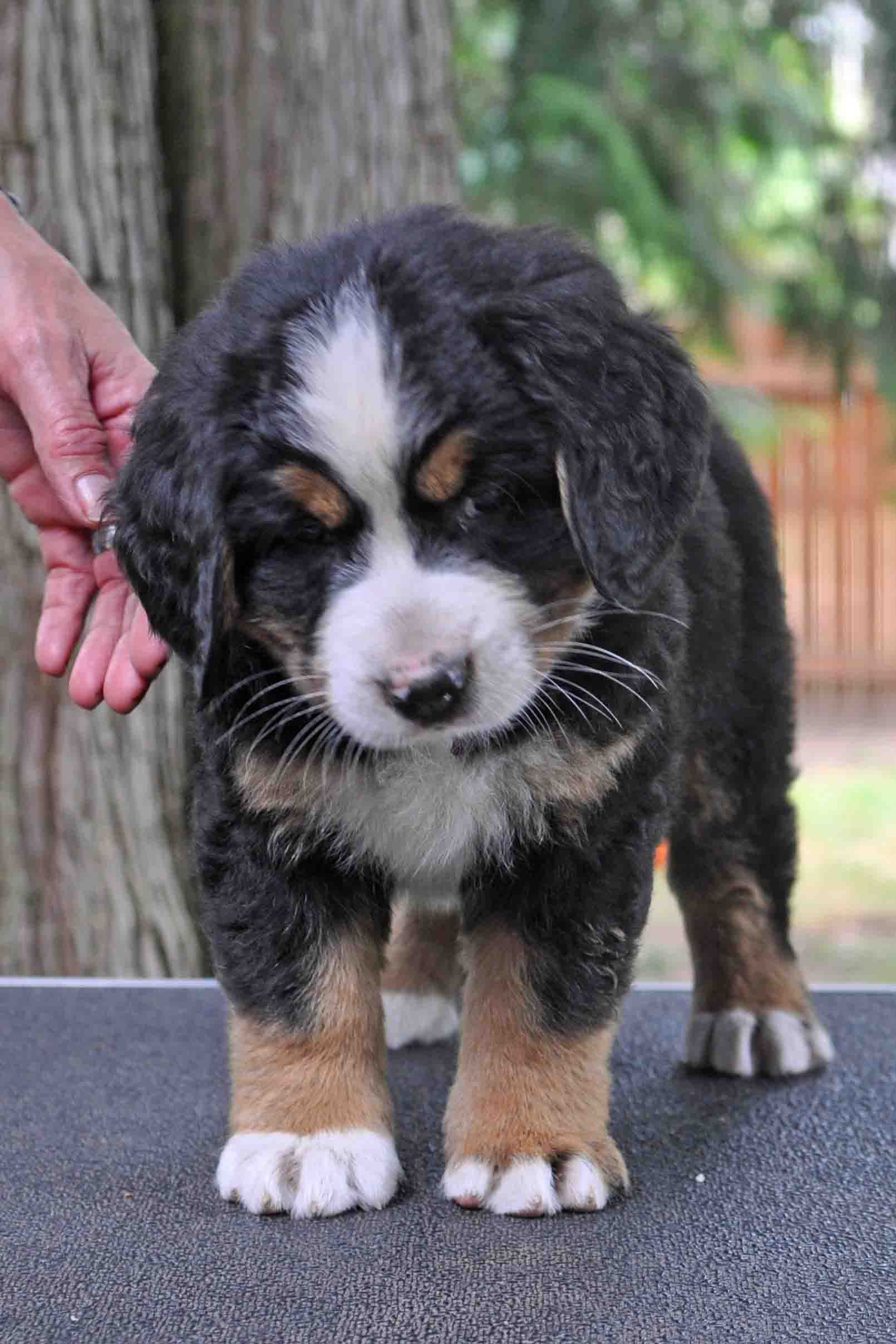 ---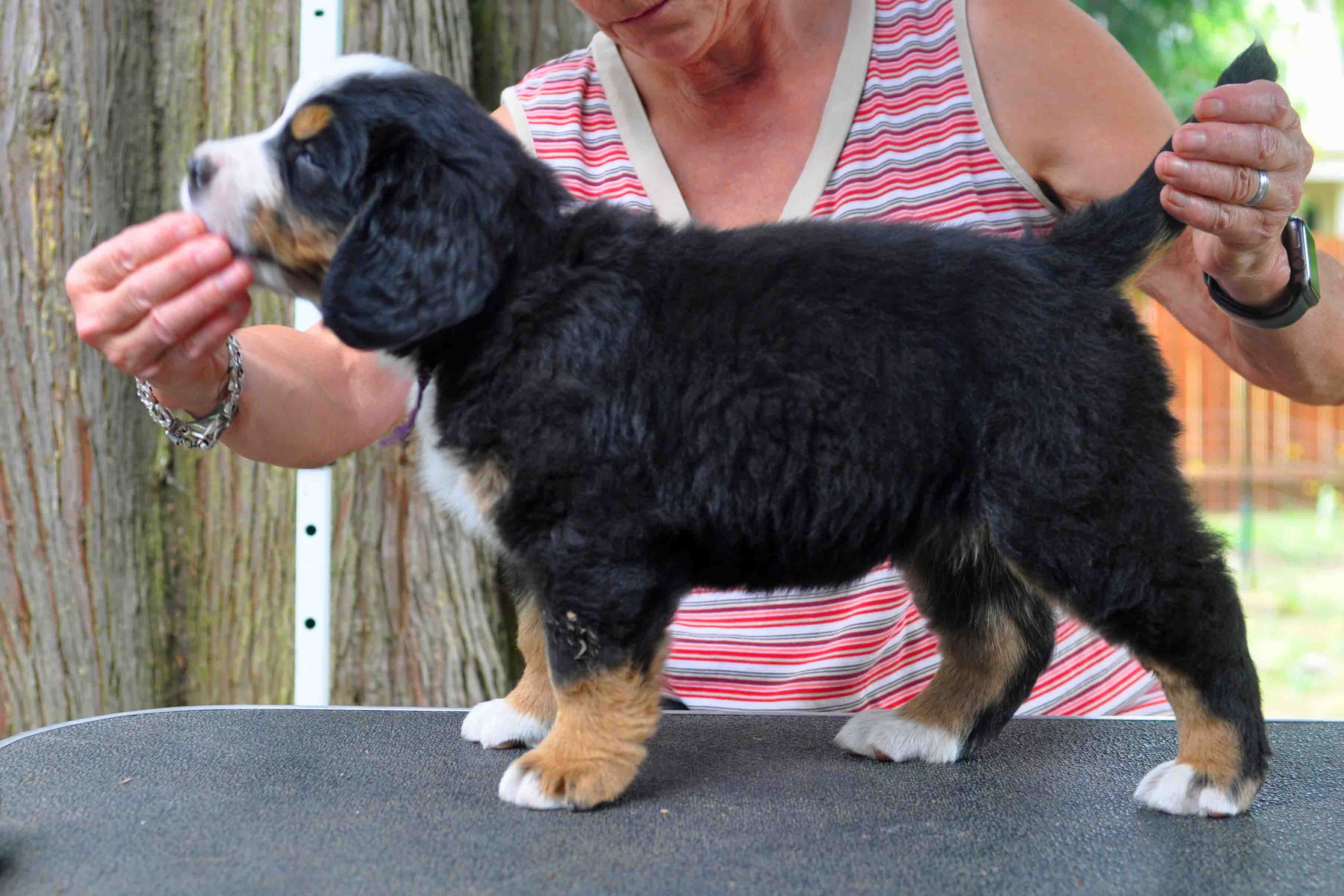 Charlotte/Purple Girl
---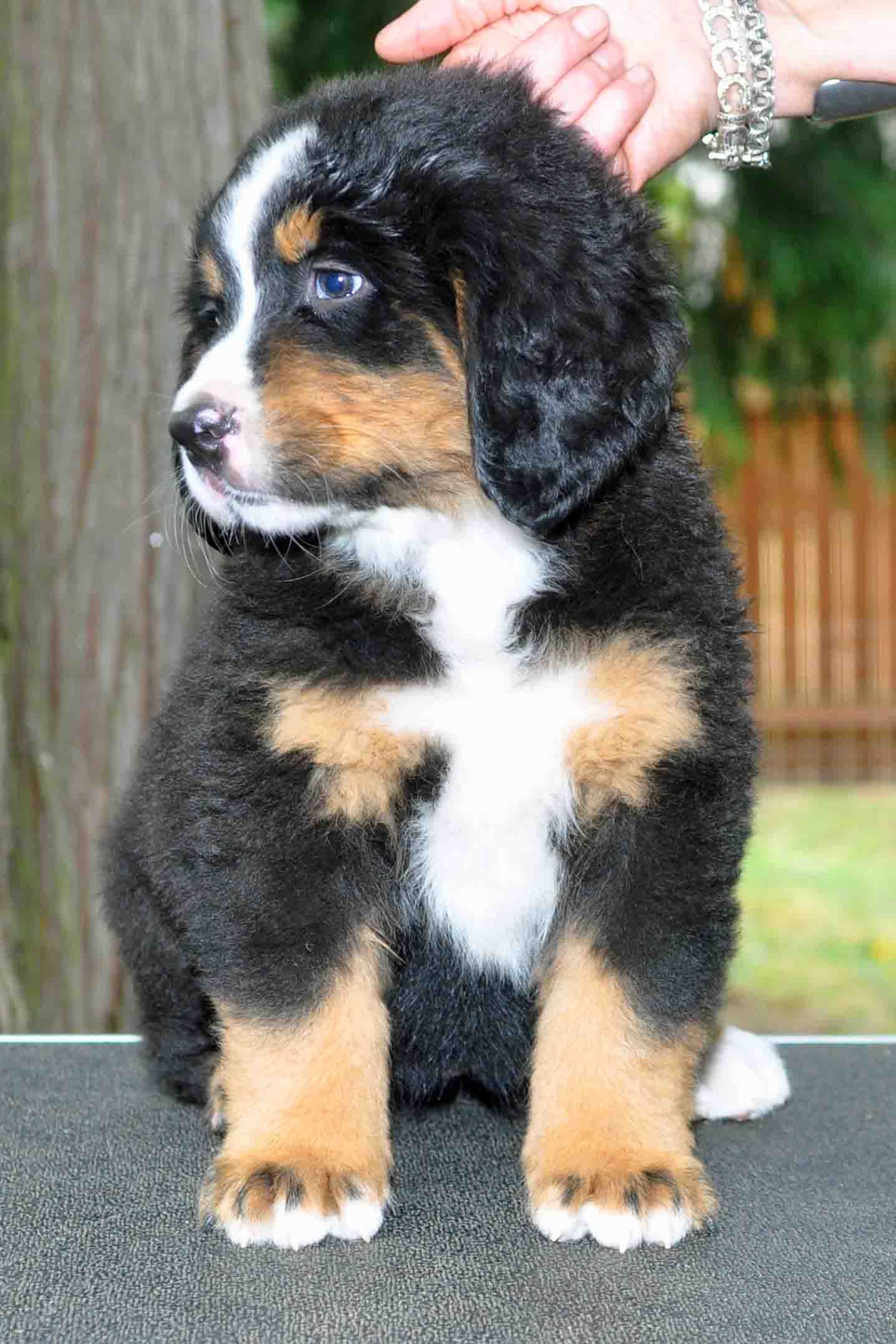 ---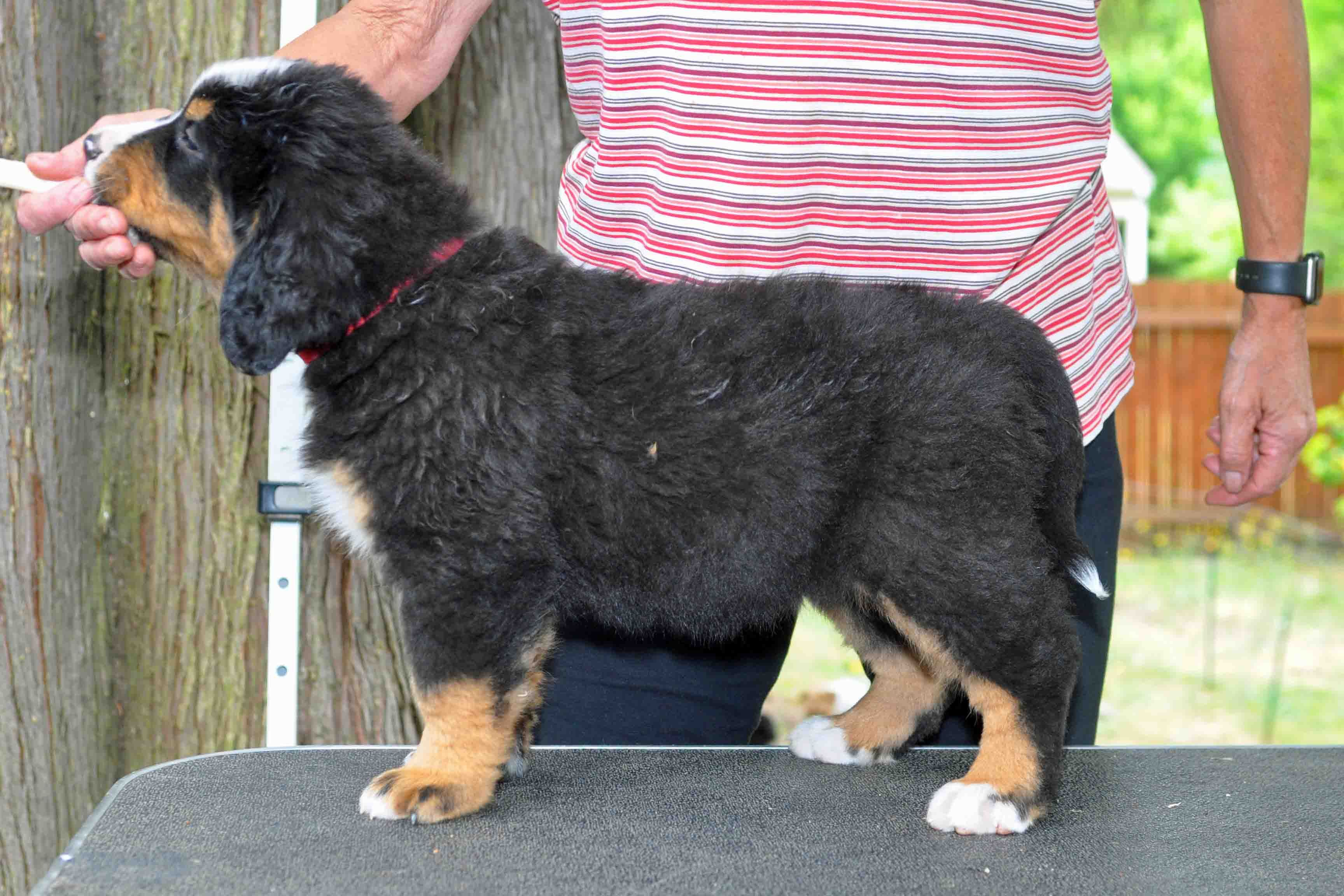 Toffifee/Red girl
---
---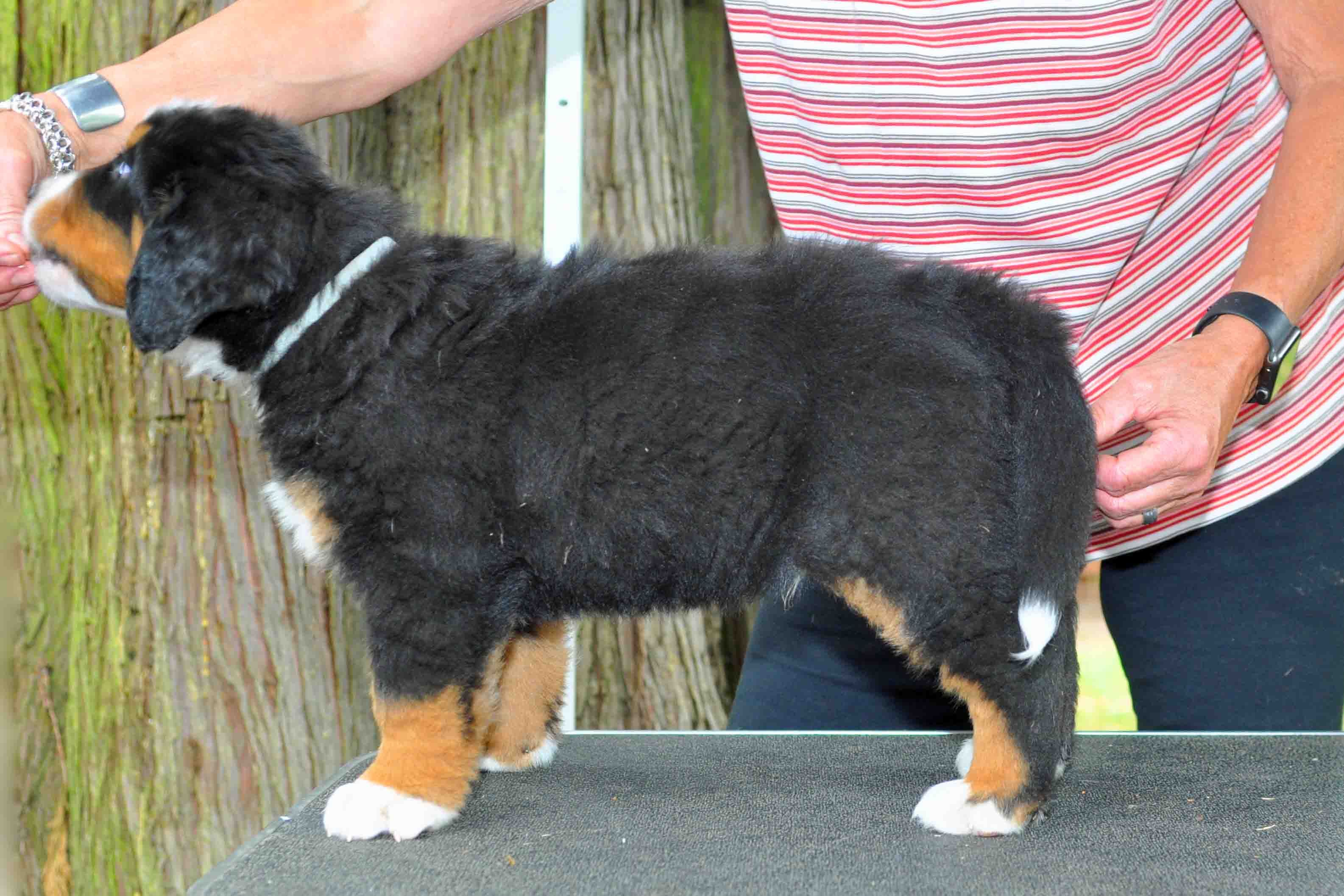 Tyler/Light Blue Boy
---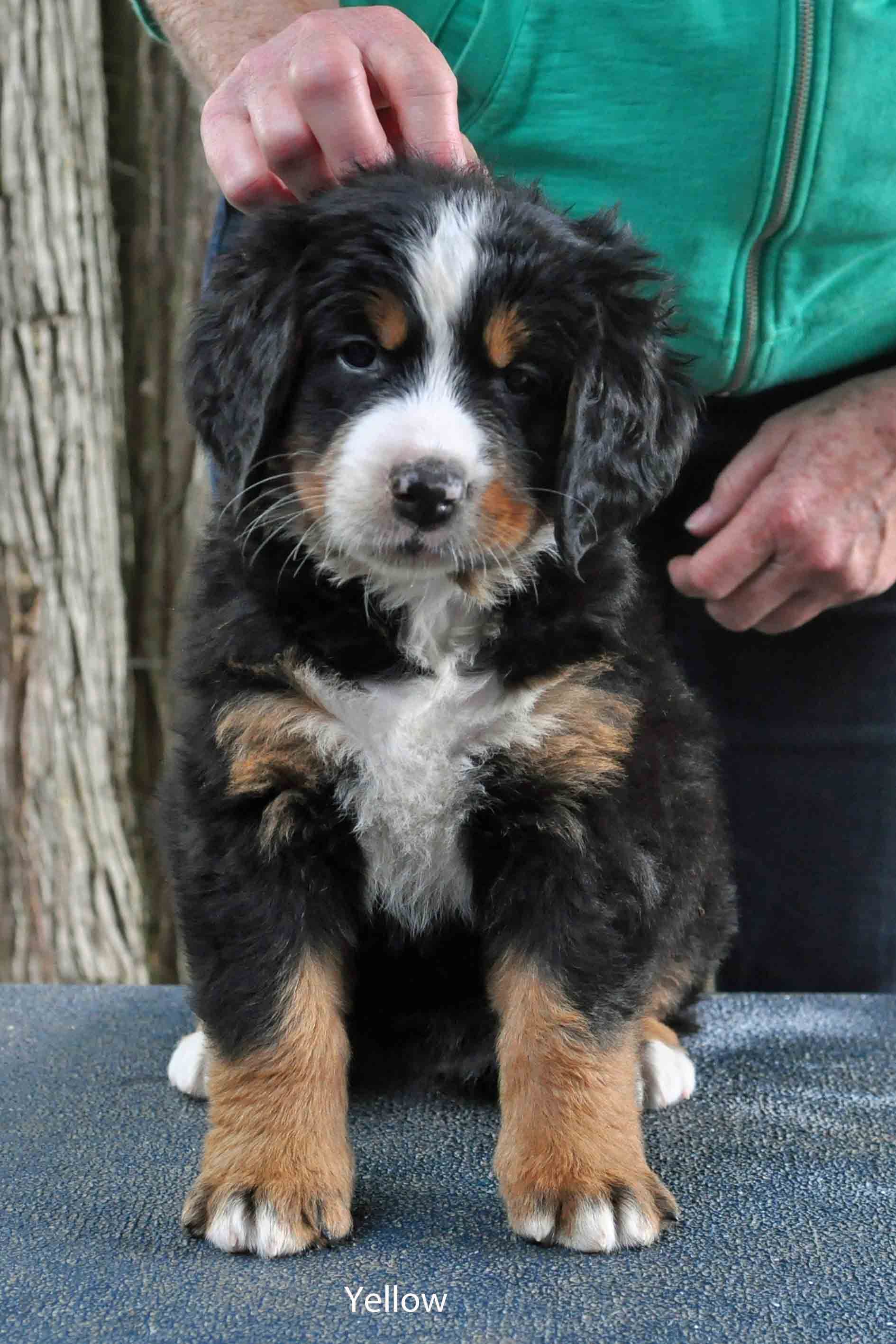 ---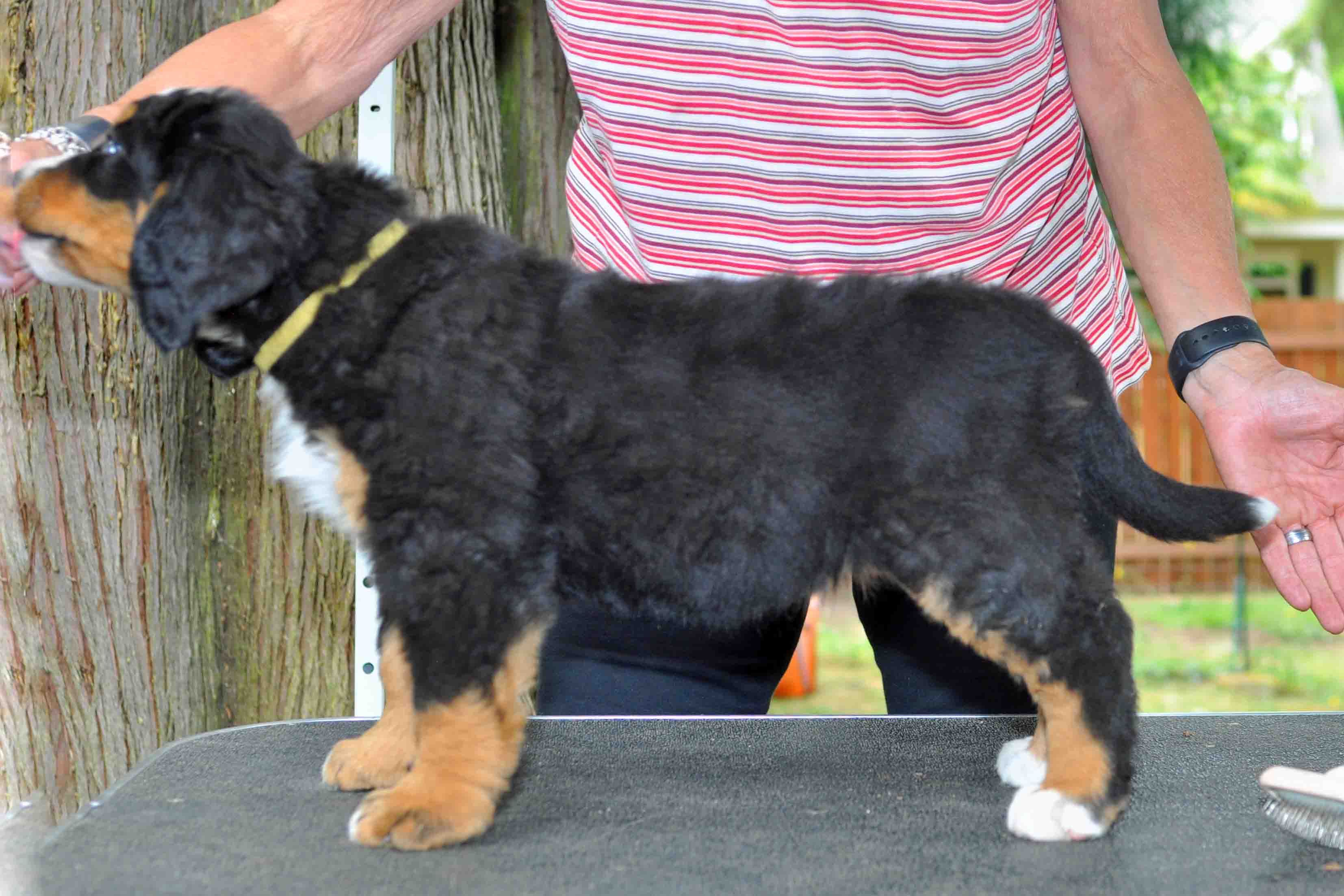 CiCi/Yellow Girl
---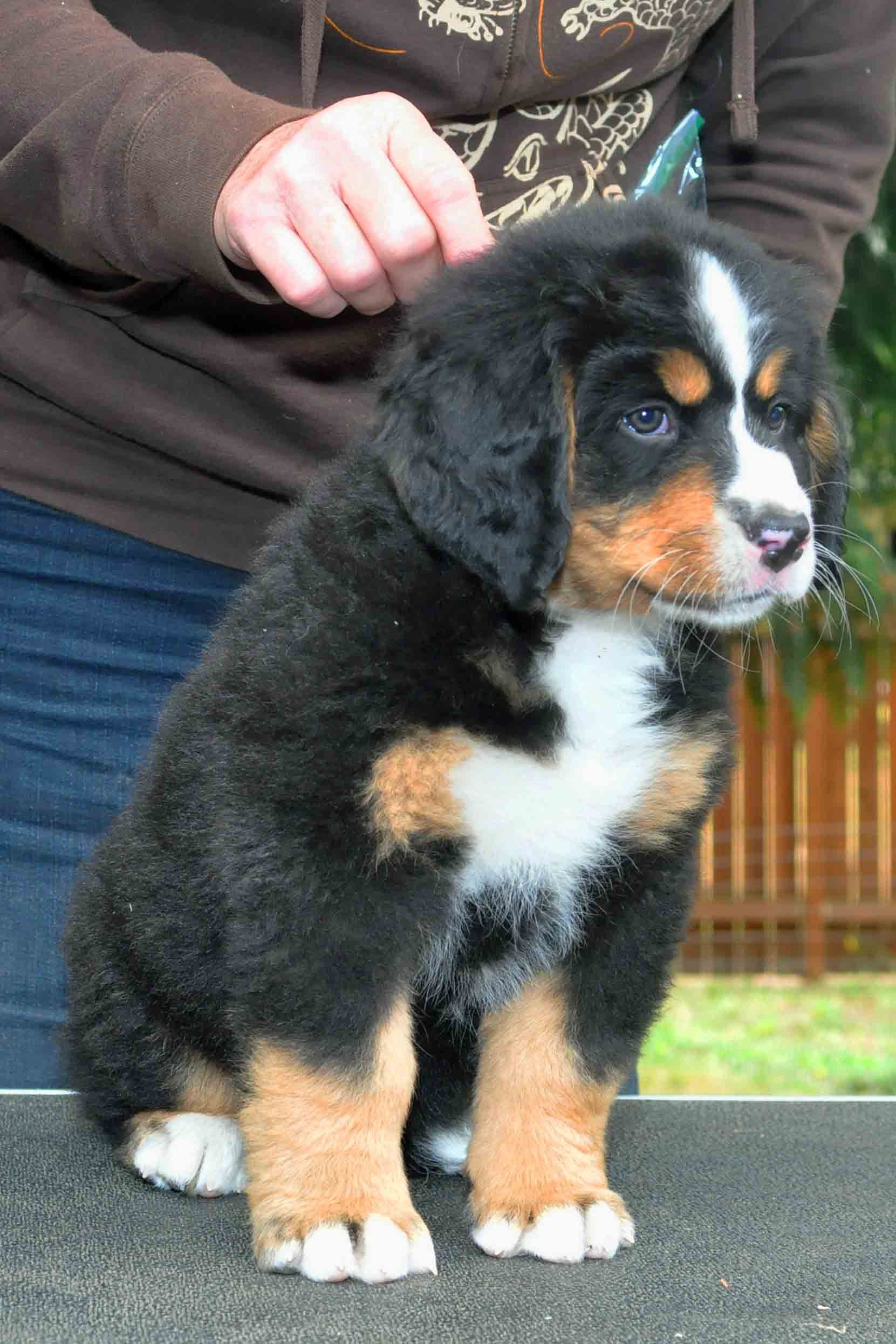 ---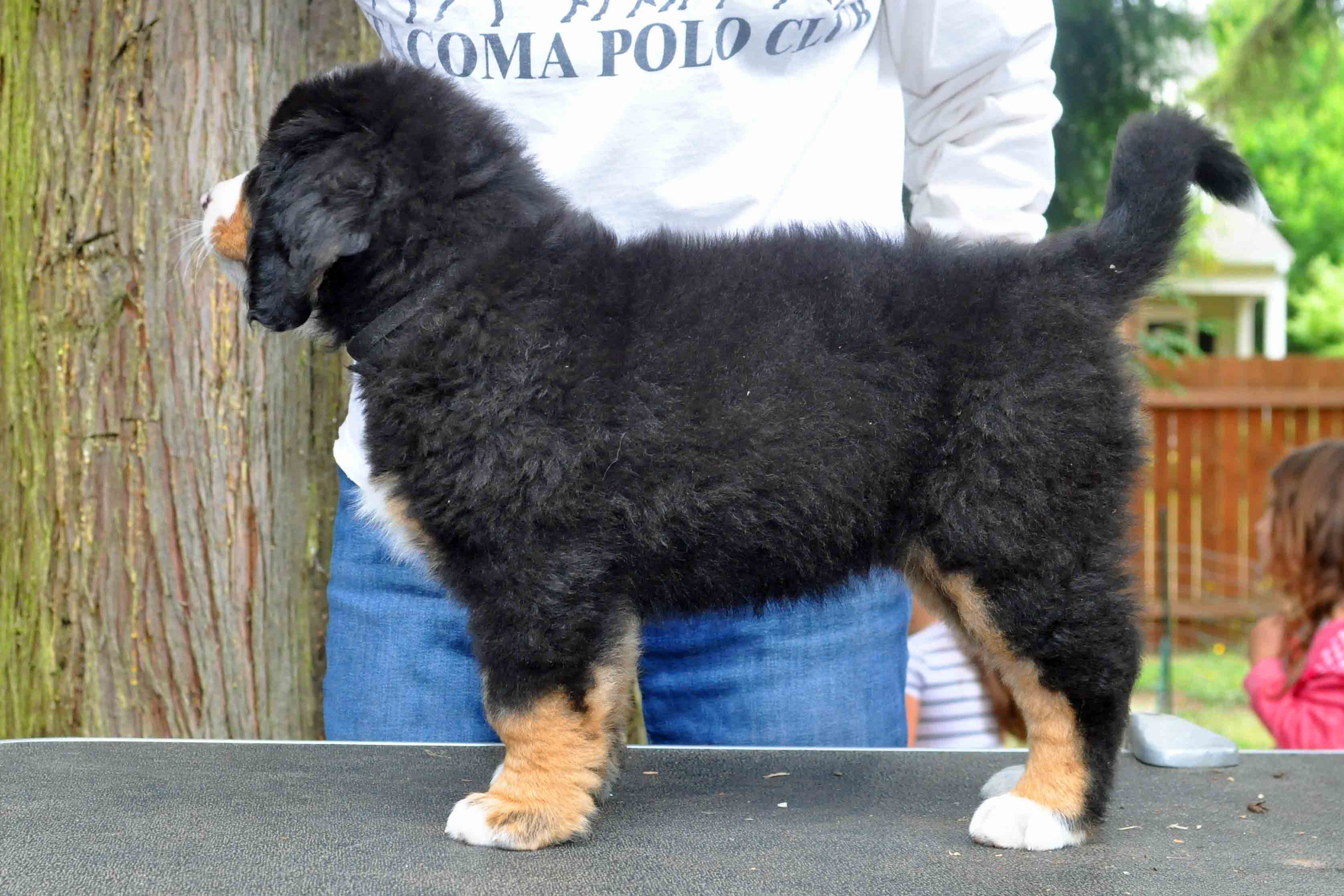 Leela/Black Girl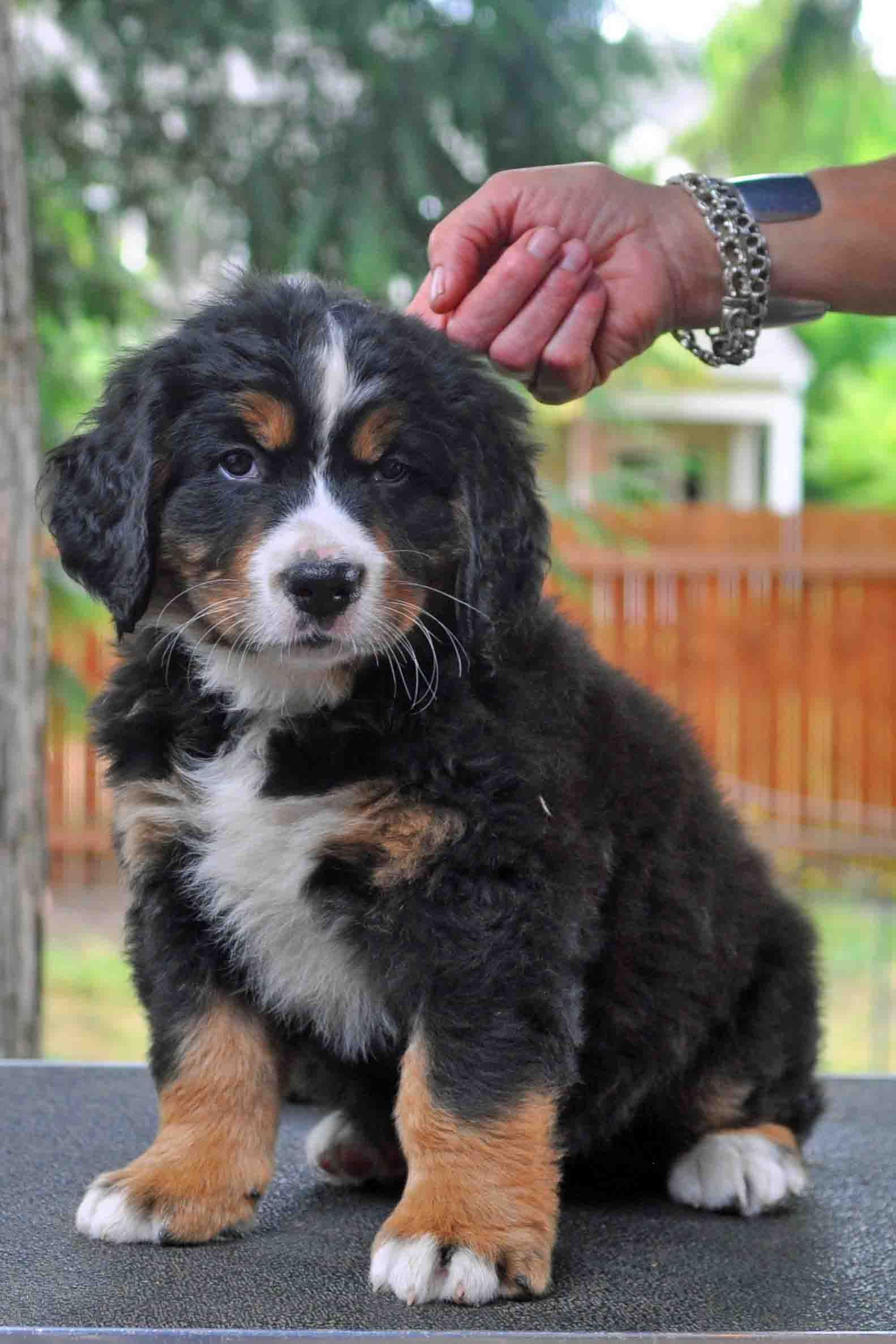 ---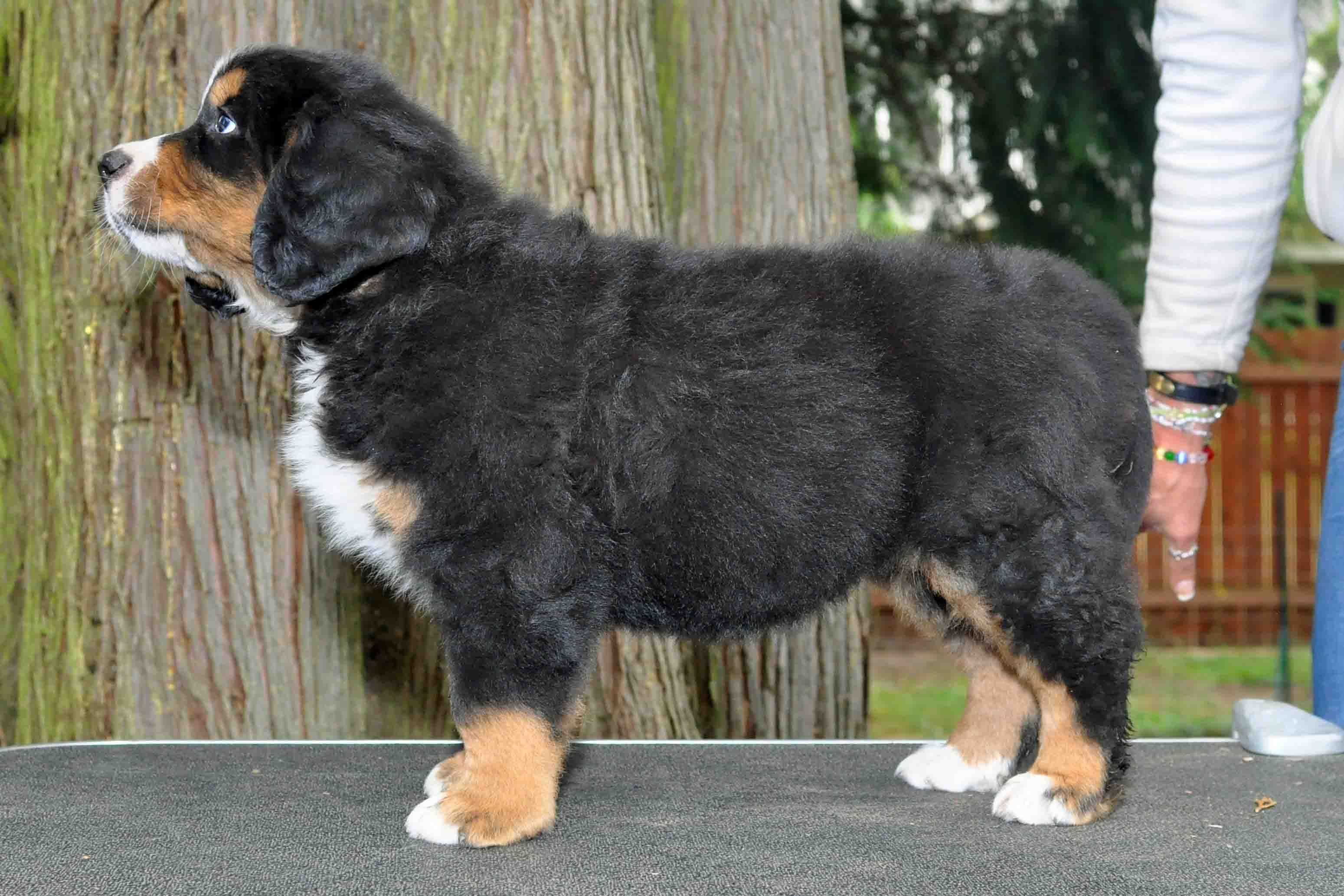 Daisy/Light Brown girl
---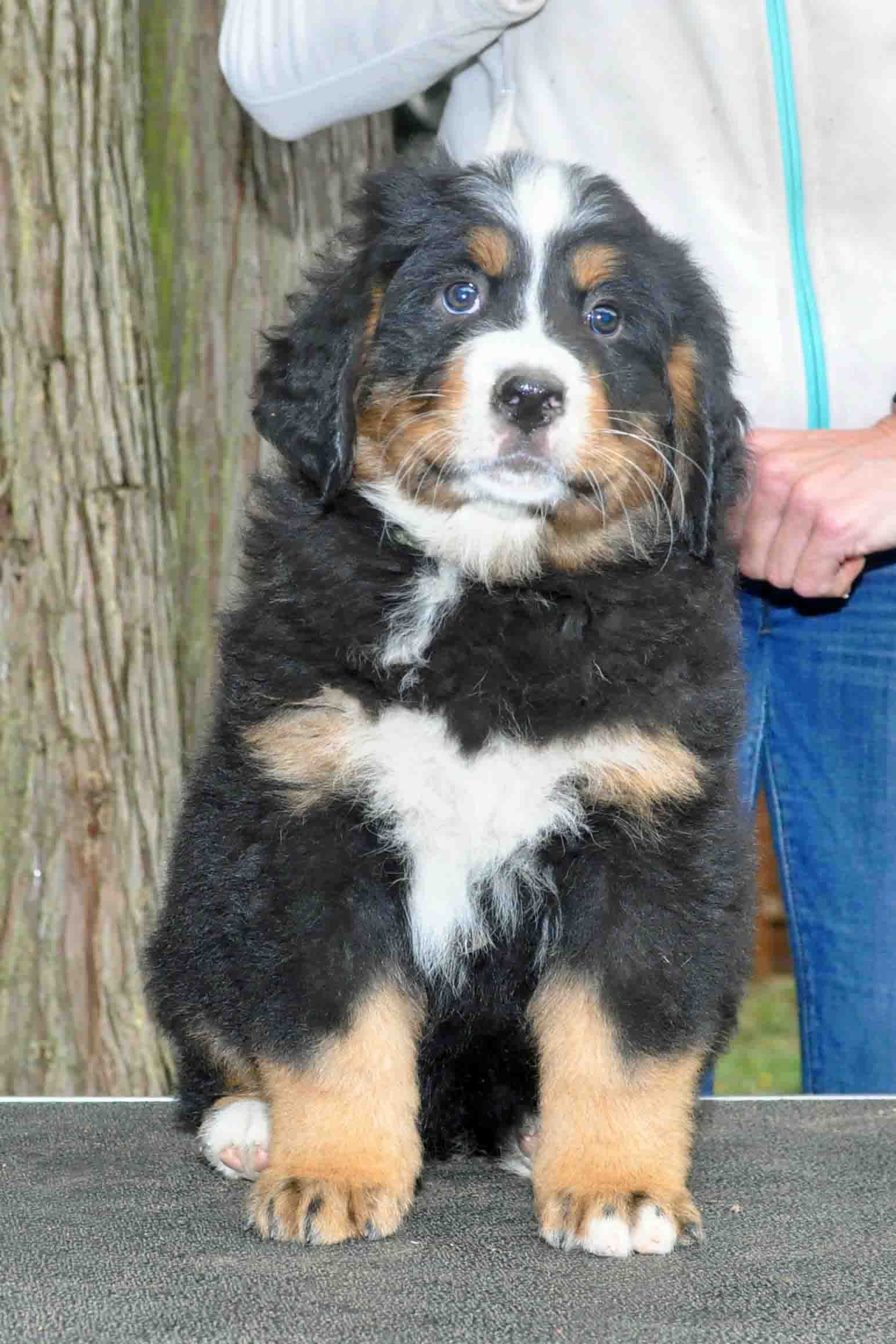 ---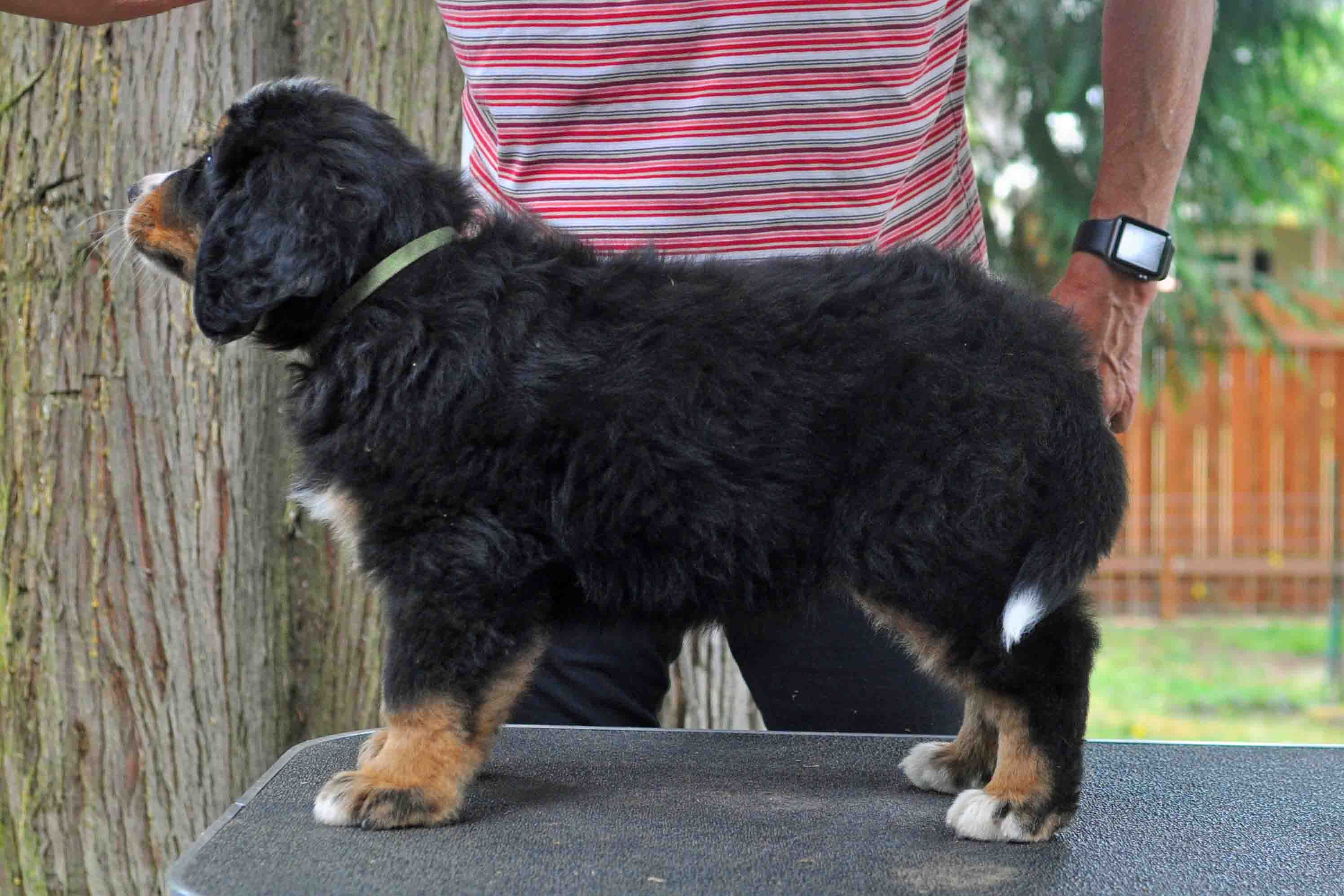 Maggie/Green Girl
---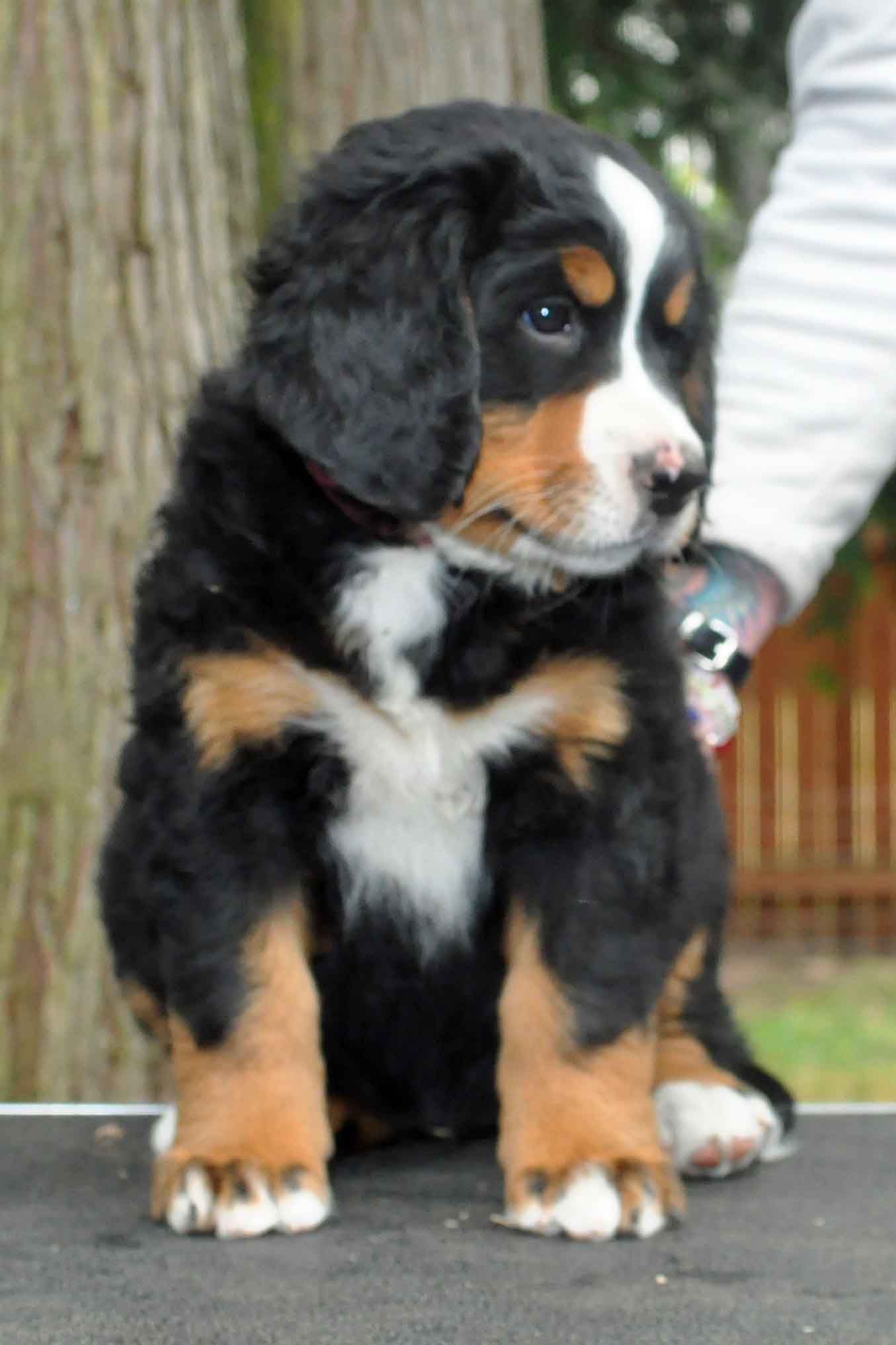 ---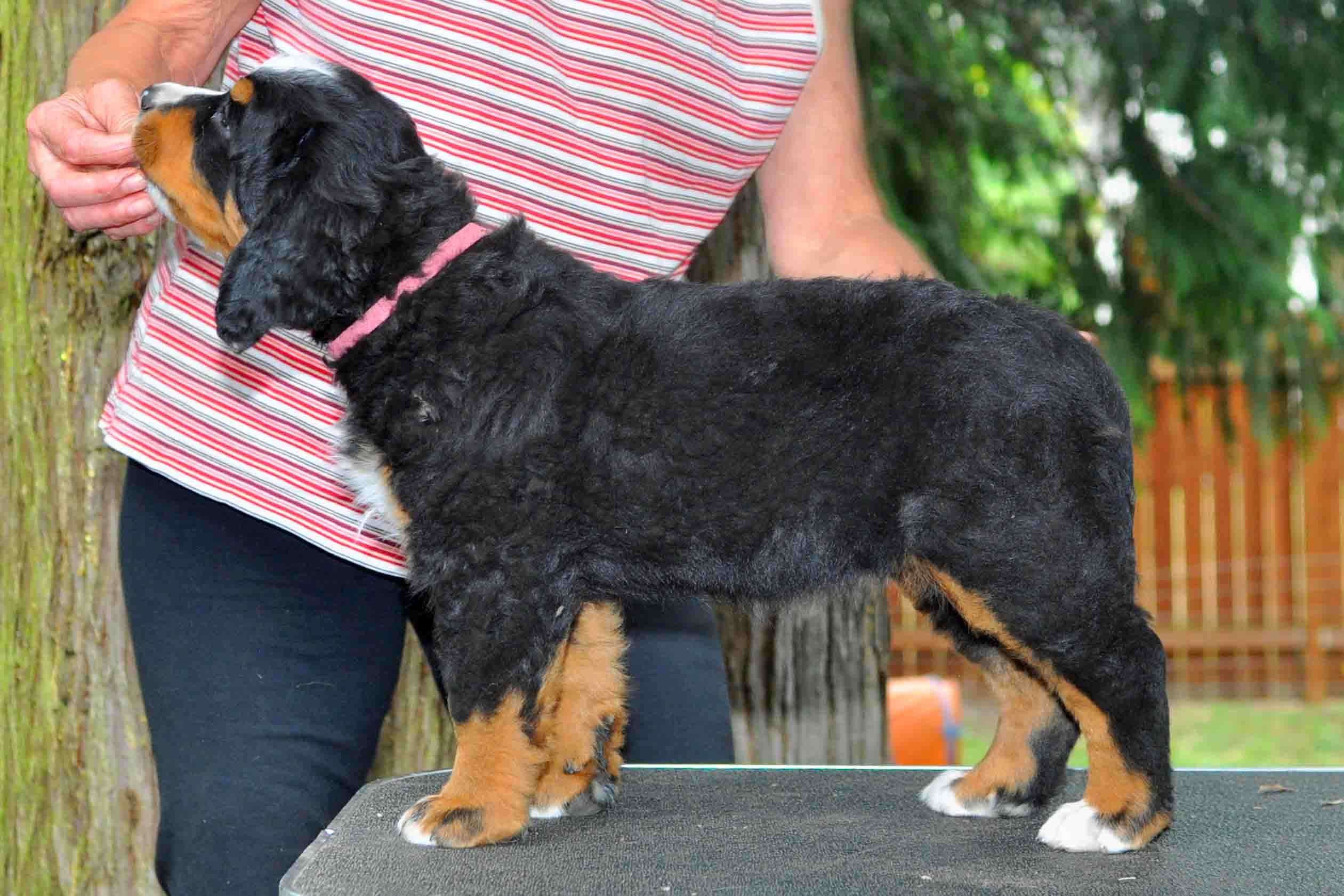 Ellie/Pink Girl
---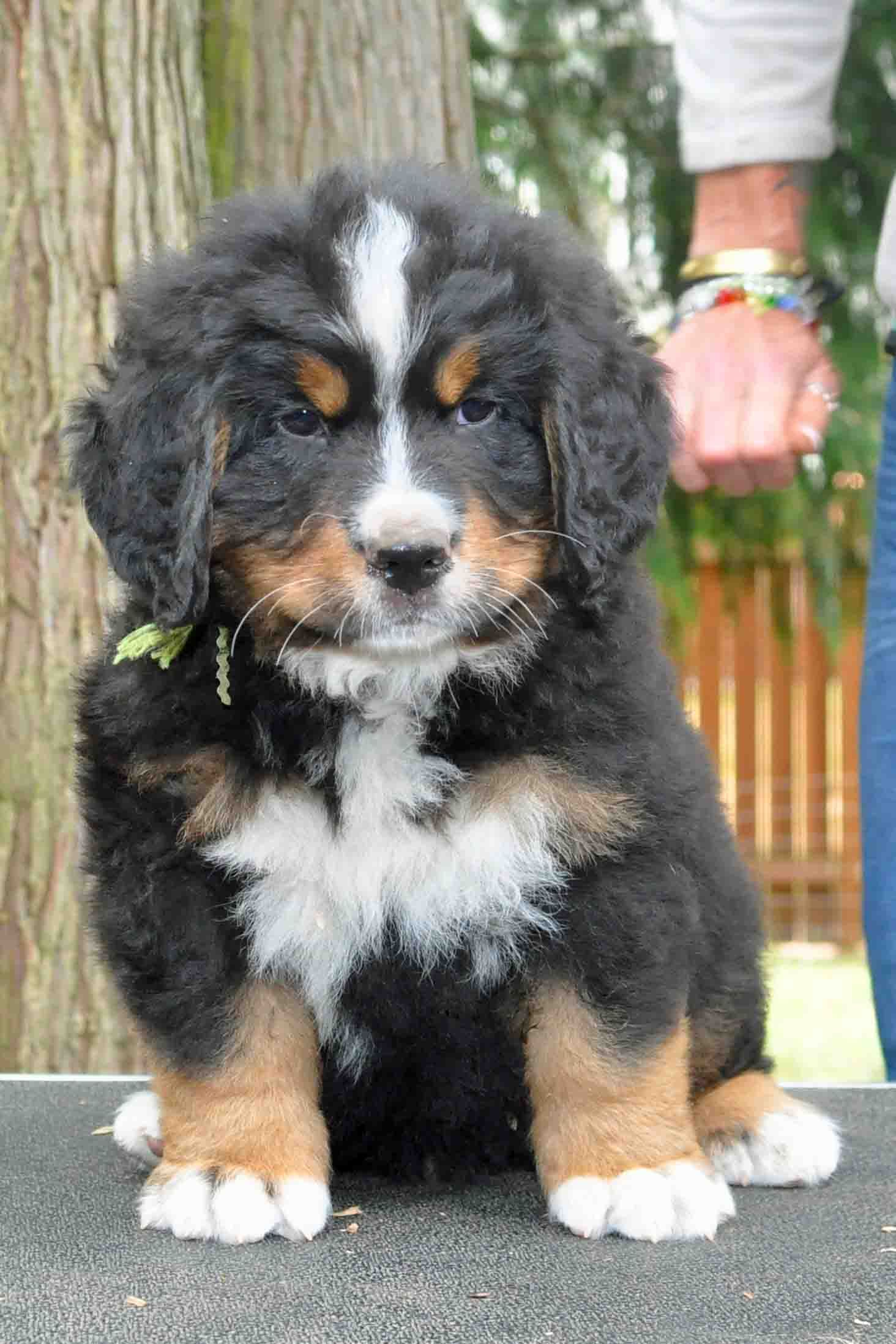 ---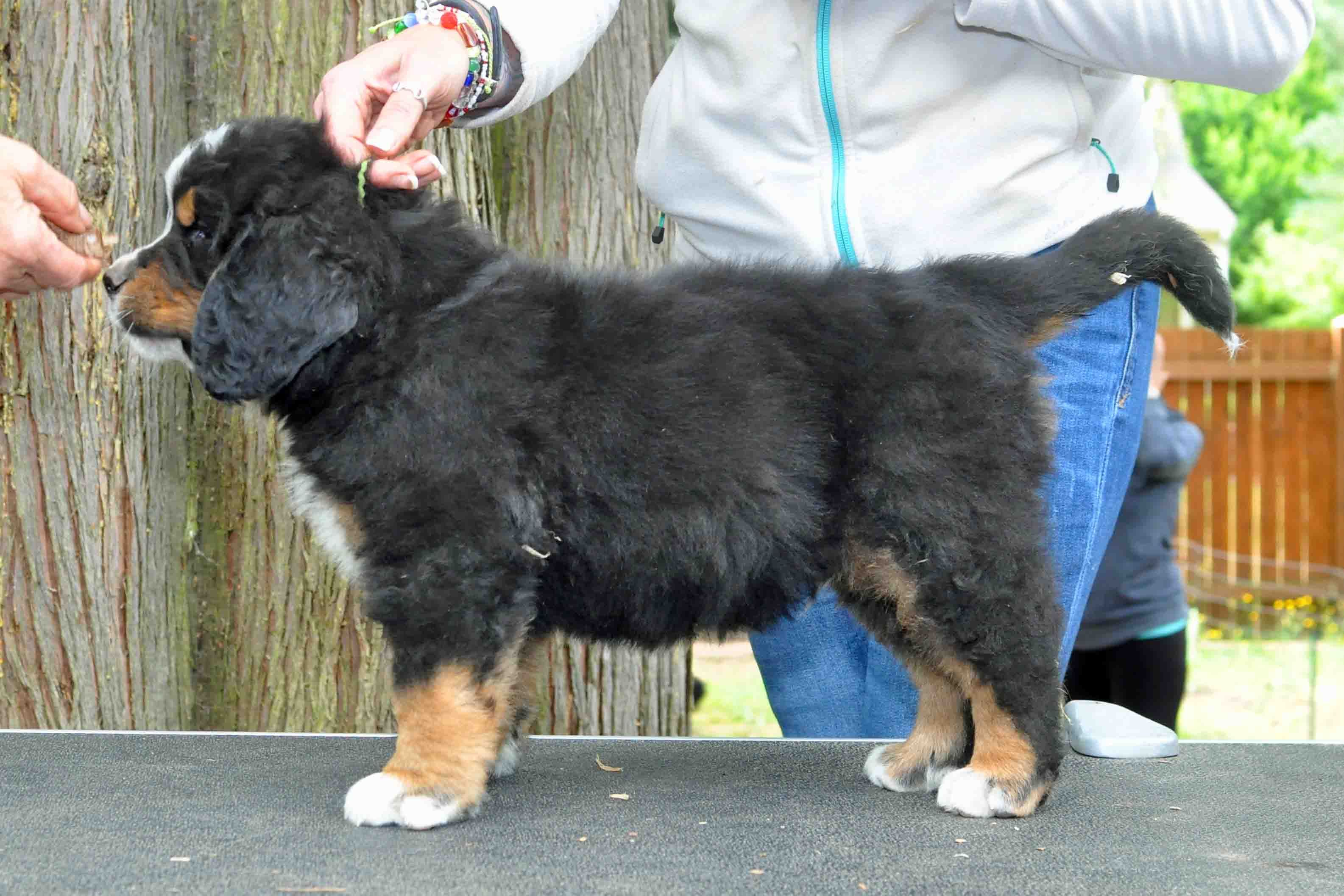 Loki/Lime Boy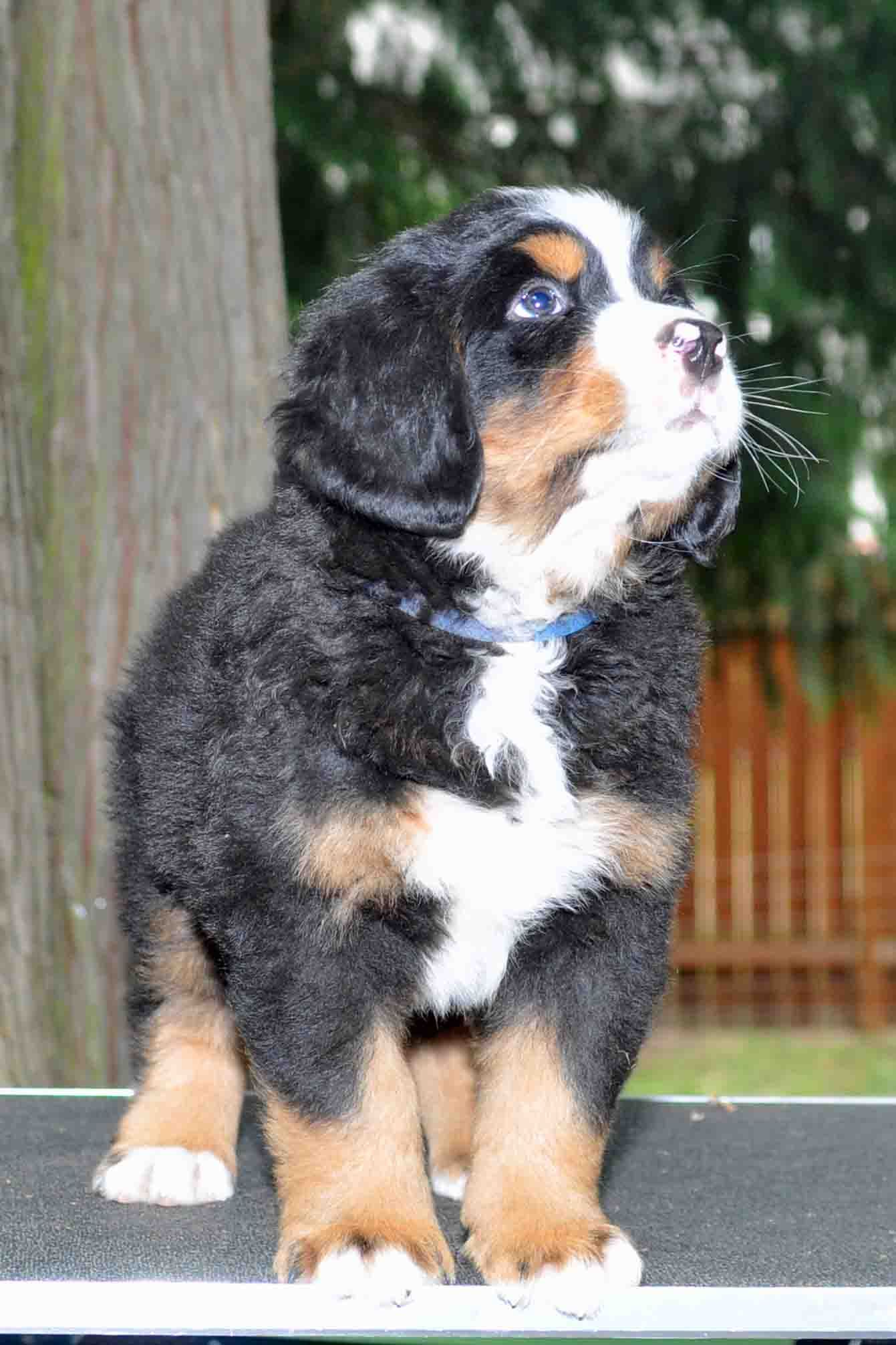 ---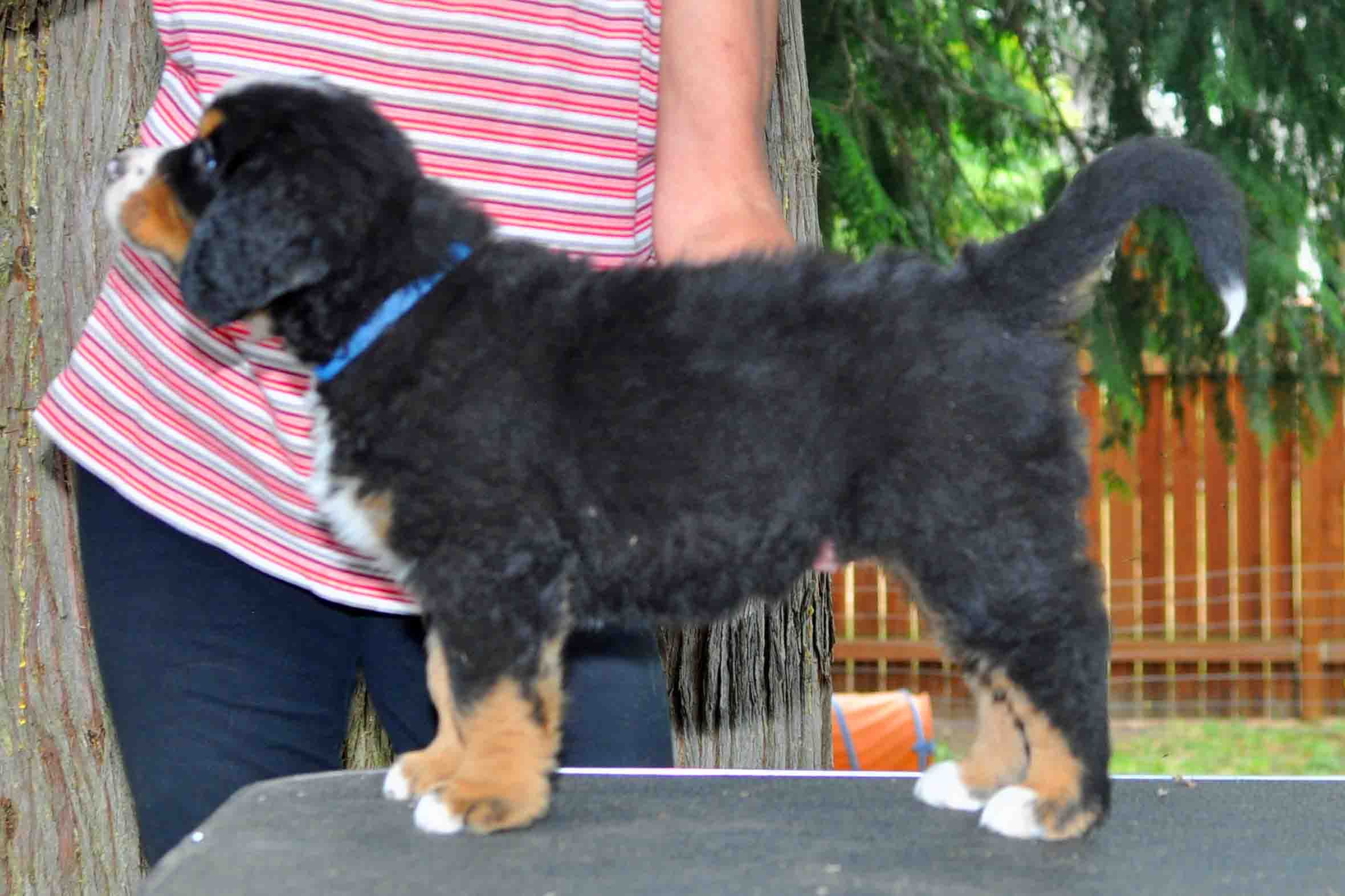 Thor/Blue Boy
---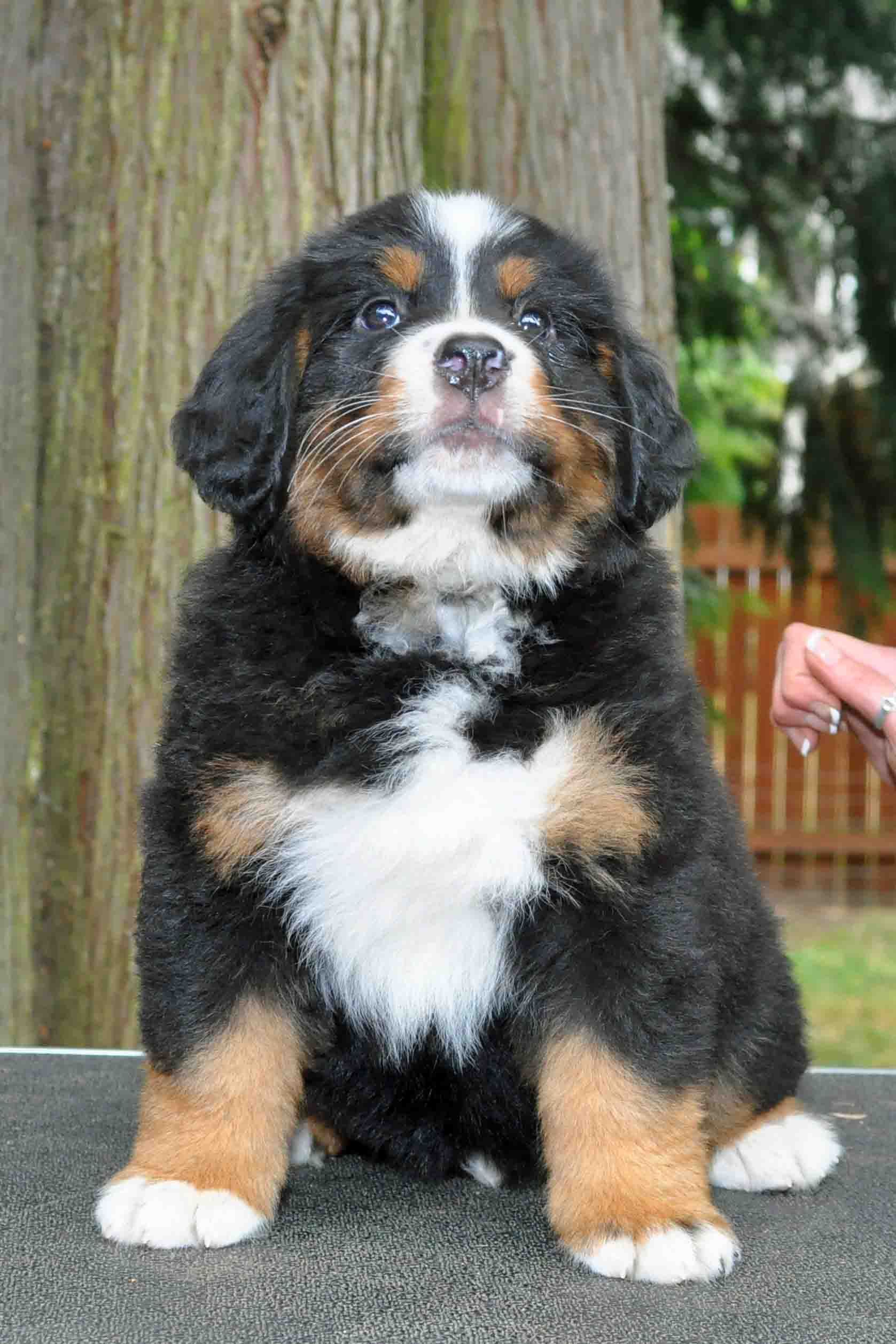 ---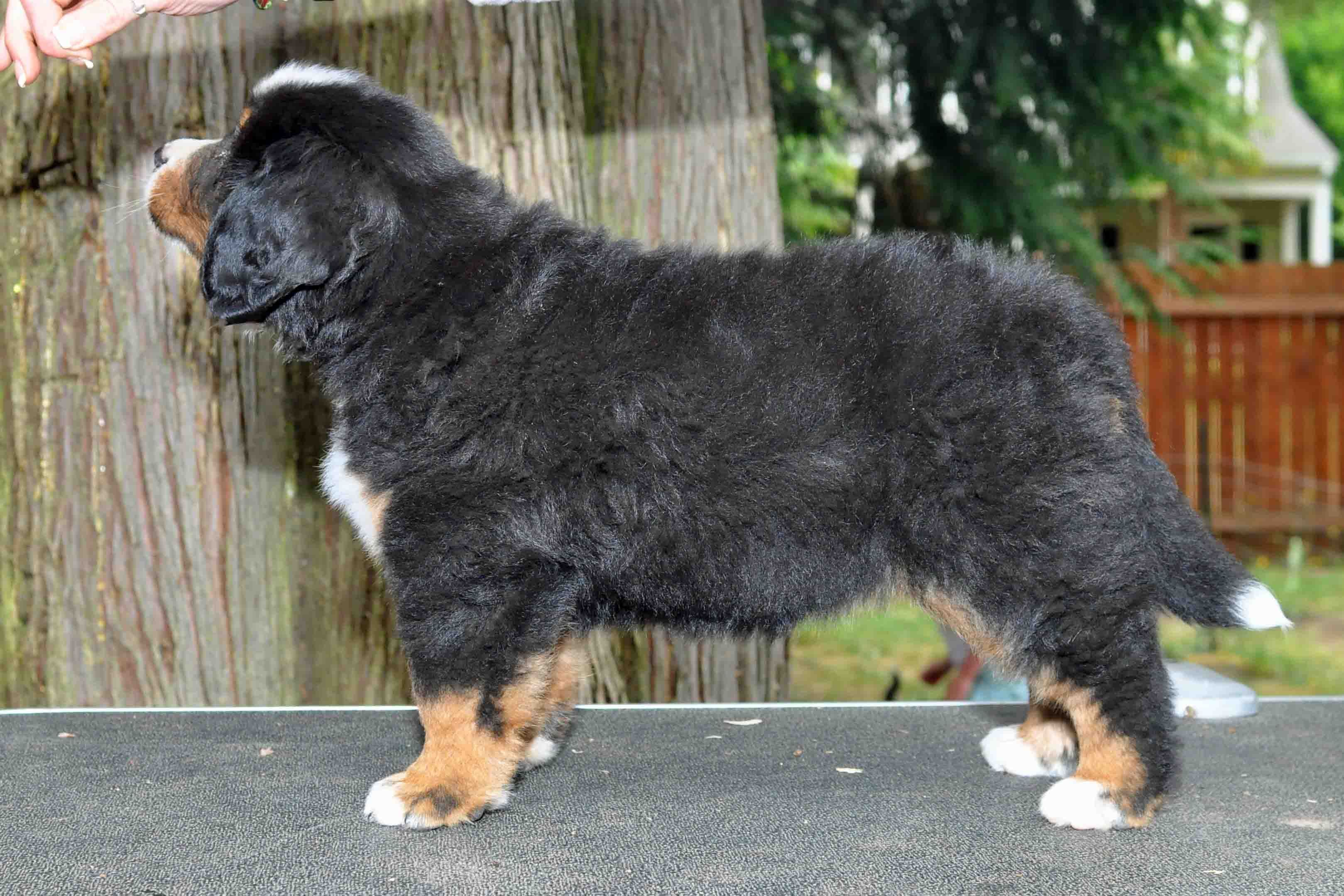 Tequila/Dark Brown girl
---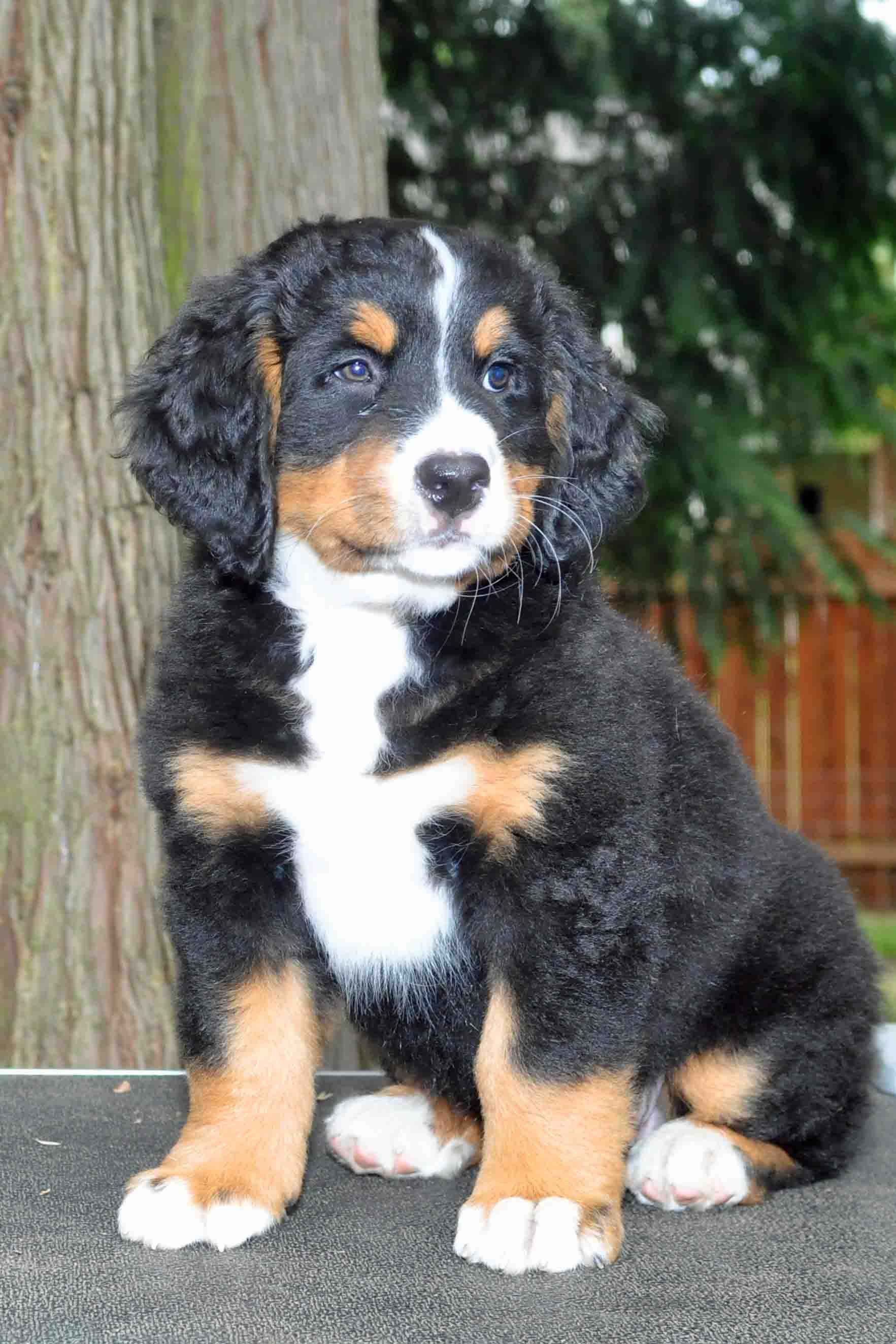 ---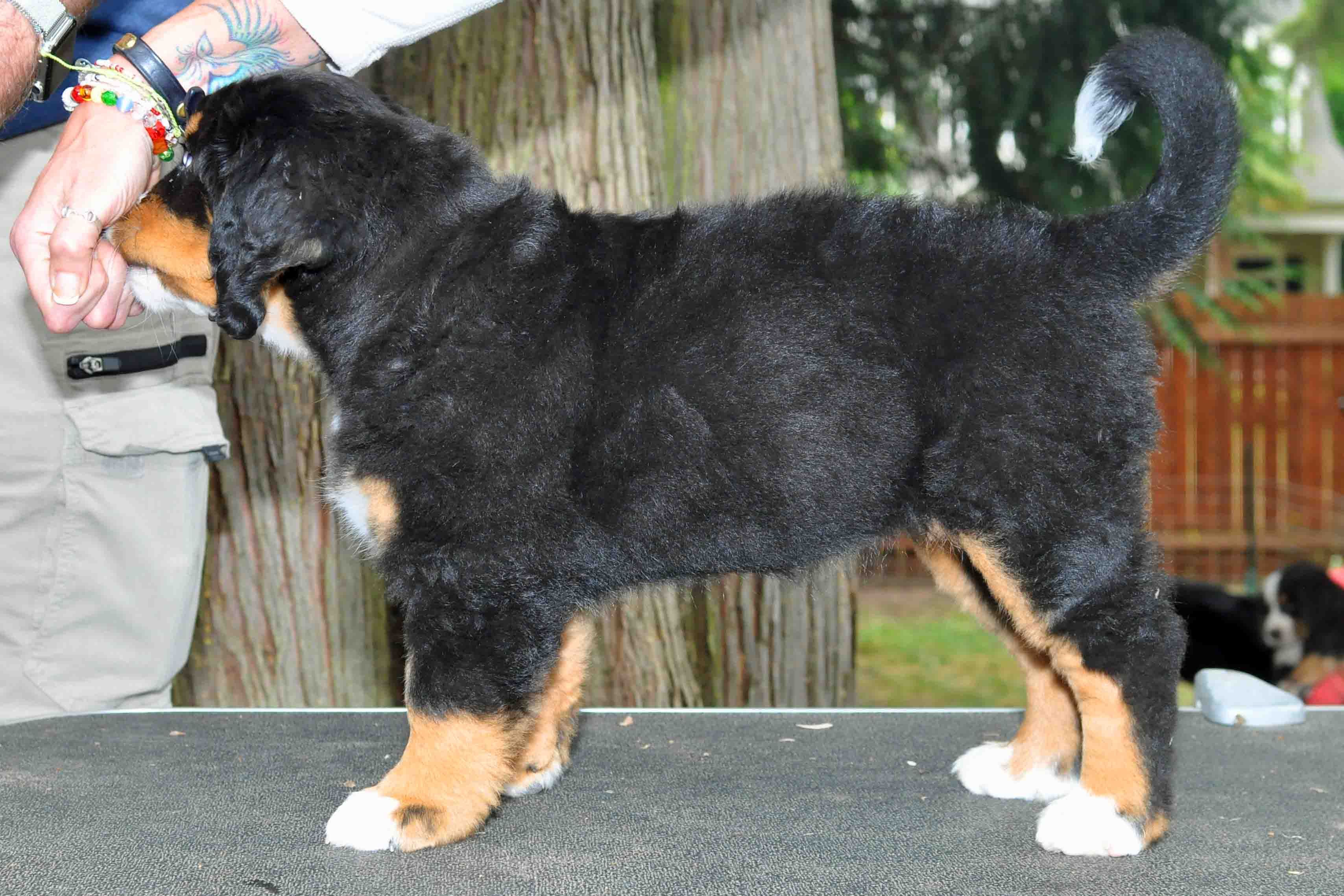 Luna/Ruffles
---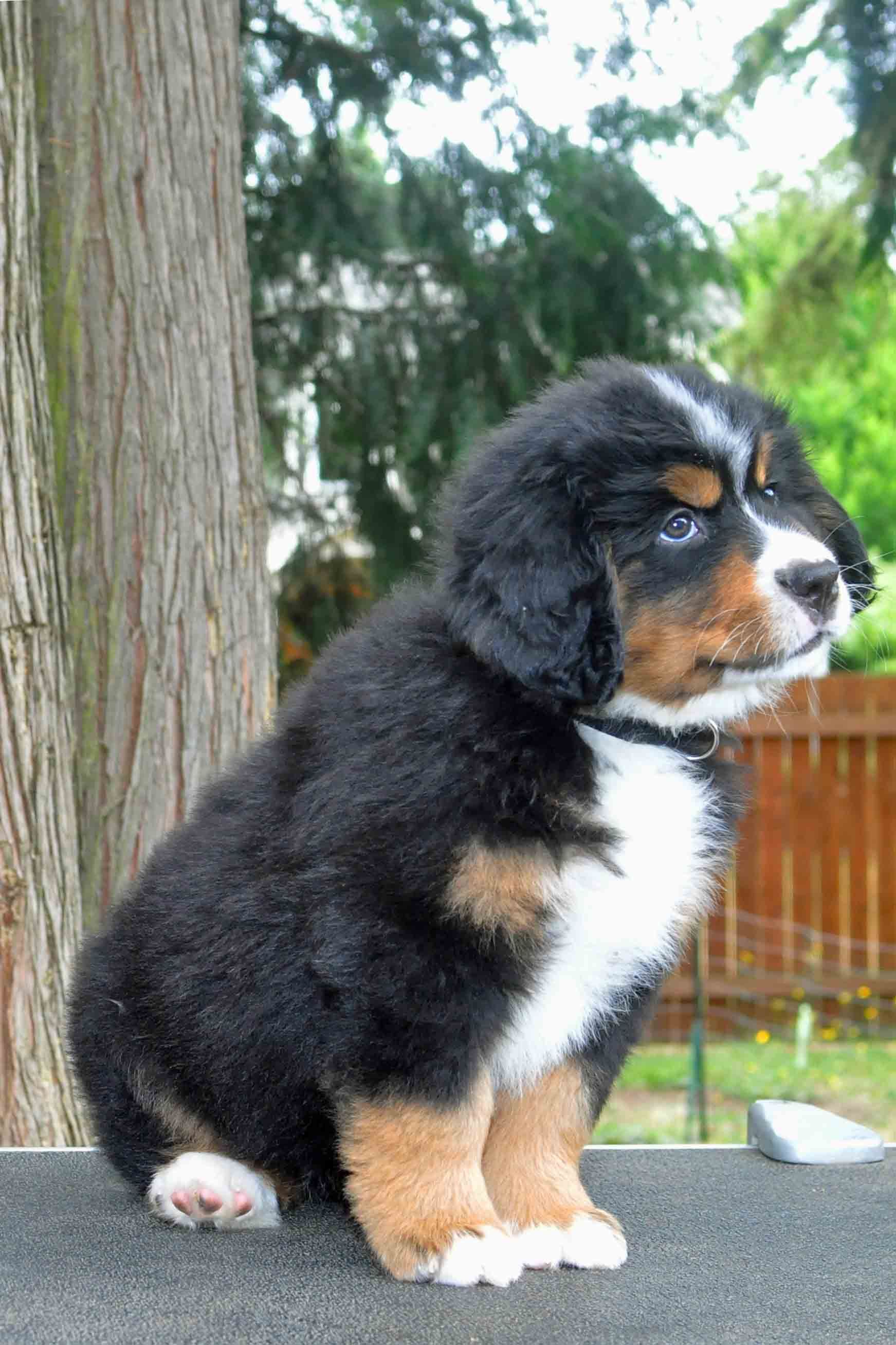 ---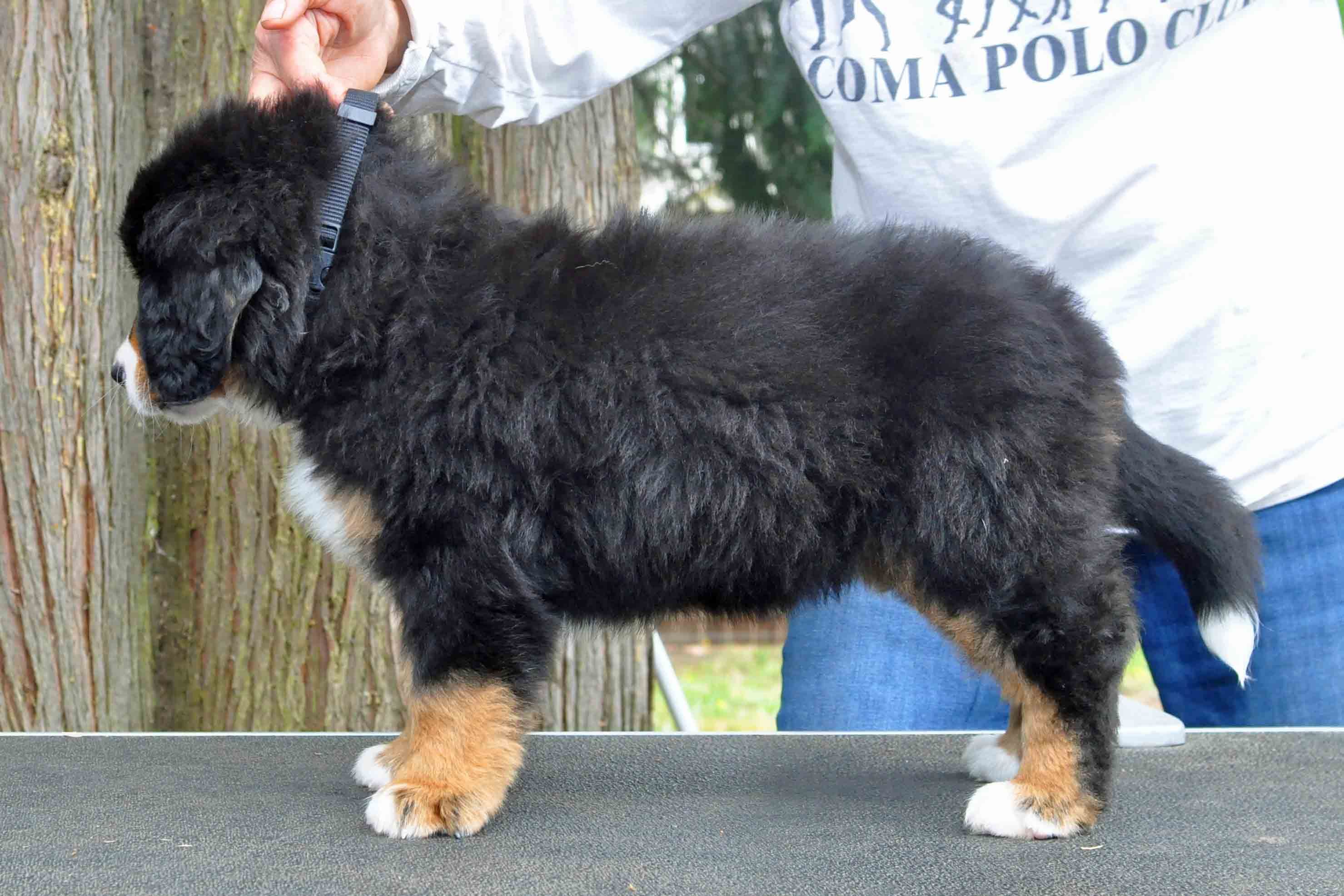 Tobi/White Girl
DOB: 5/3/12, AKC#WS59969101, HD Free (Germany), OFA Elbows gr. 1/1, DJD (xrayed at 6 yo), vWd clear, DM SOD1A and SOD1B normal, OFA heart normal, eyes normal

DOB: 7/4/08-8/16/15 (HS cancer), Jugend Champion in Germany and Switzerland, #SHSB674052 (Switzerland), hips HD-Frei, elbows ED normal, shoulders OCD-Frei, pre histio C, DM SOD1A normal

DOB: 1/17/06-5/17, 11 yo, #SHSB652048 (Switzerland), Hips HD-A/A, Elbows ED-0/0 (5 littermates all clear hips and elbows)

FIN29339/04 (Finland), DOB: 5/4/04-10-16/12, 8 yo, Hips: B/B, Elbows: 0/0

S43691/2000 (Sweden), DOB: 6/29/00-6/29/09, 9 yo (CCL tear), 3 littermates over 10 yo, HD: B, ED: 0

DOB: 11/20/15-8/8/14, (cancer) 9 yo, #SHSB645945 (Switzerland), Hips HD A1/A1, Elbows ED 0/0, DM SOD1A normal, Pre histio C

DOB: 11/1/98-2/2/06, #NHSB2212990 (Netherlands), Hips HD-B, Elbows ED-0

DOB: 12/22/03-12/23/15, 12 yo, #SHSB626931 (Switzerland), Hips HD A/A, Elbows 0/0, DM SOD1A normal, SOD1B normal, Pre Histio B

DOB: 3/7/06-4/25/17, 11 yo (lung tumor), #SSV-BS47720 (Germany), Hips HD-Frei, Elbows ED-normal, Shoulders OCD-Frei

DOB: 2/19/01-1/27/09 (organ failure after spleen removed), Hips HD-Frei, Elbows, ED-Normal, Shoulder OCD-Frei

DOB: 3/5/92-12/12/03, 11 yo, #SHSB484982 (Switzerland), Hips HD A/A, Elbows ED 0/0

DOB: 12/30/95-5/27/07, 12 yo, SSv-BS 31172 (Germany), Hips HD-Frei, Elbows ED-normal

DOB: 2/28/04-5/9/12, #SSV-BS38927 (Germany), Hips HD-V(almost normal), Elbows ED-1, Shoulders OCD-frei

DOB: 12/10/94-7/30-03, #SSV-BS 29117 (Germany), Hips HD-Frei, Elbows ED-Normal, Shoulders OCD-Frei

DOB: 6/17/94-6/27/03, 9 yo, #SSV-BS 28627, (Germany), Hips HD-L, Elbows ED-normal, Shoulders OCD-frei

DOB: 1/8/15, AKC#WS49472103, OFA hips excellent, elbows unilateral gr. 1/DJD, OFA eyes normal, OFA heart normal, DM SOD1A and SOD1B clear, vWd clear by parentage. 5 littermates all normal hips and elbows

DOB: 1/5/08-1/14/17, 9 yo (histio), AKC #WS24986604, OFA hips good, elbows normal, eyes normal, heart normal, vWd clear, DM clear

DOB: 4/23/06-3/39/14 (cancer), AKC "WS26034405, OFA hips excellent, elbows normal, eyes normal, heart normal, DM clear

AKC #WS11622302, DOB 5/28/04-5/5/12, (hemangiosarcoma) CHIC, OFA Hips good, OFA Elbows normal, OFA heart normal, CERF eyes normal, DNA vWd clear, DNA DM normal

DOB: 1/12/04-12/18/13, 9 yo (histio), CKC #PA919237, OVC hips unaffected, elbows unaffected, OFA heart normal, eyes normal

DOB 9/4/02-10/24/11, 9 yo (cancer), AKC #WR07137902, OFA hips good, elbows normal, eyes normal, heart normal

DOB: 6/29/00-10/1/11, 11 yo (lymphoma), AKC #WR00726701, GDC hips excellent, elbows normal, OFA heart normal, eyes normal, vWD clear, DM clear. Top producer of champions and working titles

DOB: 8/11/99-12/15/06 (cancer), AKC #WP93394501, OFA good, elbows normal, heart normal, eyes normal, vWd clear

WS40441101, DOB; 4/12/12-11/26/21 (lymphoma); SOD1A DM carrier, SOD1B DM clear, vWd clear by parentage, OFA Prelims at 23 months: hips good, elbows normal, CERF, OFA heart normal, Pre-histio index: B, AKC pointed

CHIC, DOB: 10/8/09-11/30/17 (lymphoma & Wobblers), OFA hips good, elbows normal, heart normal, CERF, SOD1A DM carrier, SOD1B DM clear

(Sweden), #S21194/2004, DOB 2/9/04-4/29/14 (torn ACL), 10 yo; Hips A, Elbows UA normal, MH temperament tested, 26 ½"h, 121 lbs., pre-histio test index C

AKC #WS22420505, CHIC, DOB: 5/26/07-8/15/16 (lymphoma), 9 yo. OFA hips good #BMD115177G24F-VPI; elbows normal #BMD-EL6820F24-VPI; CERF BMD-4569(2010); AKC DNA#V520665; vWD clear by parentage; OFA heart normal; DM SOD1A normal

AKC#WS15060401, DOB 9/12/05-5/19/14, 8 yo (adrenal cortical carcinoma), CHIC, OFA hips good, elbows normal, vWd normal, CERF, heart normal, DM SOD1A clear, DM SOD1B clear

AKC#WR071762/01 9/15/01-10/12/09, 8 yo, OFA Hips good, elbows normal, thyroid normal, CERF, vWd normal

AKC#WR001852, DOB 2/28/00-8/18/11; 11 yo (histiocytic sarcoma), CHIC, GDC hips excellent, elbows clear, vWd normal, CERF, heart normal, SOD1A DM normal, AKC pointed