I have one or two litters a year.  My goal is to produce puppies with good orthopedics (no hip or elbow dysplasia), longevity, correct temperament and breed type.  And that's a difficult task--there is no perfect Bernese!  How do I do that?  Some of that is on the home page about continually learning and researching the breed. 

My breeding goals include:
 
All my breeding dogs have a CHIC certificate from OFA, or the equivalent tests in BernerGarde.  This means they have been tested for: hips, elbows, eyes by an Ophthamologist vet (formerly CERF, now called CAER), heart by a Cardiologist vet, vWd (a bleeding disorder), and AKC DNA (proof of parentage).  See this link for more information: https://ofa.org/chic-programs/browse-by-breed/?breed=BMD .  And more recently, I have now added DNA tests for 2 mutations for degenerative myelopathy, which is eventual paralysis of the rear, caused from breakdown of the myelin sheath of the spinal cord. Also, the genetic risk test for malignant histiocytic cancer, called the Antagene histio test, from France (for more info, go here: https://www.ravenridgebernese.com/links, and go to the health section).
I strive for full litter data on all my puppies--which means their hips and elbows are xrayed at 1-2 years of age, and all (including dogs that didn't clear) submitted to OFA, BernerGarde (see links), and this website.  I'm grateful to our puppy owners in sharing this commitment.  Having data on the 'vertical pedigree' gives the best genetic picture for orthopedics.
All litters are assessed with the Volhard puppy temperament test at 7 weeks.  They  are taken to a new location, with a handler they've never met and rated with an experienced team.  Removing them from their littermates, in this setting, reveals behavior not seen at home.  This has proven to be a good measurement of the adult's temperament and identify 'trends' in the litter.
I want to know how all our puppies are doing for life, providing resources/referrals and support for training and health issues.   Any genetic disease is shared in BernerGarde and this website.
I work with pedigrees that most grandparents/greatgrandparents lived to 9+ years old (the average AOD is currently 7.5 years old). But many are also 10-12 years old too!  I'll look for data on as many dogs/littermates in the pedigree to identify weak/strong pedigrees for longevity.  You'll see age/cause of death on most of the dogs in the pedigrees, if owners/breeders are willing to share this information.  Once again, full disclosure is the key here, to educate puppy buyers, and improve subsequent litters.
I have personally met all stud dogs of our litters to assess temperament, structure, etc.  Knowing a pedigree is not enough--you must know the dog!  Thus trips to Belgium, Switzerland, Germany and Sweden to choose past sires.  And I am forever grateful for these sire owners to share data on their pedigrees, and keep me updated on the family health history. 
It's important to build diversity in the genetic pool, and reducing the inbreeding coefficient.  And to that end, I strive to bring in new lines, from foreign pedigrees on several of my litters. Some of these sires have never before had puppies in the US.
And this endeavor would not be fulfilled without the generous support of many friends and mentors--It does take a village!  Judy, Terri, Elizabeth, Gail, Madeline, Joanna, Ronny, Anders, Robin, Celia, Susan, Cindy, Lisa, Stacy, and many more, you are so appreciated!  
---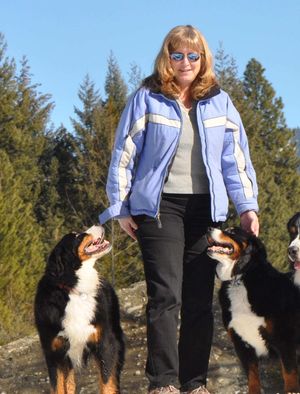 Interested in a puppy?  If you live in the area, have a large fenced yard, and the time to raise a puppy (not left alone 40 hrs/week, so someone available during the work week to care for puppy), I occasionally have a litter.  I do ultrasound on the mom to confirm pregnancy, then meet with prospective buyers at that time.  The puppy questionnaire is here: Questionnaire